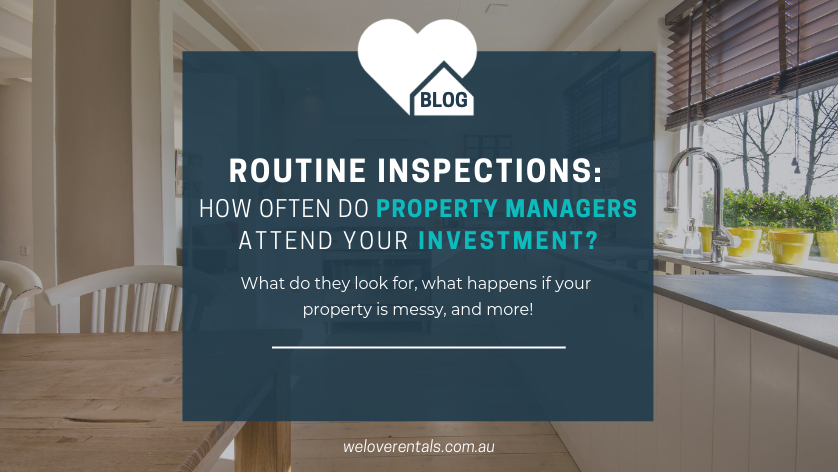 Routine Inspections: How Often Do Property Managers Do Routine Inspections, And What Do They Look For?
Routine inspections protect your property, and help your property manager flag any potential maintenance before they become problems.
Read on to learn the core benefits of routine inspections for landlords, including:
What your property manager will look for in a routine inspection
How often your property manager will do routine inspections
What happens if your property is messy
When you can attend a routine inspection
How you can find out the results of a routine inspection
What are the biggest benefits of routine inspections?
Hands down, the biggest benefit of routine inspections is to check your tenant is maintaining your investment – no amount of photos, emails, or even videos can give us a true indication of this. It's our chance to document any maintenance, damages, and/or repairs on your property, and ensure you don't end up paying for costs that aren't your responsibility.
The next benefit of routine inspections is they keep your tenant happy and heard. We can check-in on their situation and communicate with them face-to-face. According to an interview by domain.com.au, comfortable and reliable communication with a landlord (or a property manager like us) is the key to retaining tenants who always pay rent on time, cause minimal damage to the property, and renew their lease multiple times. 
And lastly, routine inspections are the best way to make sure your home is handed over in a good standard. They teach your tenants how to live in, and leave your property when they vacate.
What will your property manager look for during a routine inspection?
During a routine inspection or maintenance visit, a property manager will not only assess the condition the tenants are keeping your property, but also the "overall" state of your property, including:
Wear and tear
Cracks, marks or chips in the ceiling or walls
Lights and appliances (oven, range hood, dishwasher etc) are in working order
Leaking taps or faucets
Mould growth
Visible water damage or water marks
Lawns and gardens being maintained
We will also keep an eye out for any unlawful behaviour, including drug lab indicators. Check out our guide to the benefits of using a property management company. Make sure you're not paying overs for rental property management fees here in WA.
How often will your property manager do routine inspections?
Four times per year. We will schedule the first routine inspection 6 weeks after your new tenant has moved in to check they are maintaining your home properly, and then once every three months thereafter.
Can you attend more than four times per year?
No, by law we are only allowed to attend a maximum of four times per year, however this is a good thing. Routine inspections can be stressful for tenants, and we've found four times per year is a reasonable number of visits to keep your tenant happy, and for us to ensure your investment is being properly cared for.
Can I come to the routine inspections, too?
Absolutely! If possible we encourage you to attend at least one routine inspection per year to check up on your investment and view any wear and tear. We will arrange a suitable time between you and your tenant, and let them know you will be attending, too.
The place was a mess! What happens now?
If there is anything that needs to be rectified by the tenant (e.g. unkempt lawns and gardens), we will provide your tenants with a clear list of what needs to be rectified at the property, and then organise to re-inspect 14 days later. Re-inspections do not count towards the four times per year cap.
If your tenant fails to rectify the issue/s before the re-inspection, you can choose to breach them and/or request they vacate the premises – it's totally up to you. If you're unsure of how you'd like to proceed, we'll offer you our recommendations – that's what we're here for!
How will I find out about the results of a routine inspection?
We document all maintenance, wear and tear and/or damages in your inspection reports, plus photo evidence and notes for your records, and you will be emailed a copy on the same day.
This includes anything the tenants need to rectify for either a re-inspection, or the next inspection.
We will also document any "potential" maintenance the tenant would like to report, or we observe. Just recently one of our property managers noticed some early signs of water damage during a routine inspection. She took photos, noted the routine inspection report, and marked the wall with pencil so she could monitor the problem for the landlord.
"It's our job as property managers to be proactive, and we can't always rely on tenants to report maintenance and damages on the property – sometimes they don't know what to look for. When I do routine inspections, I always keep a keen eye out for any potential issues." – Jodie Wilkinson, Property Manager at We Love Rentals
This keeps you in the loop, and gives your property the best protection.
Thinking of renting your home, but still have a few questions? We'd love to help you, get in touch on (08) 6254 6300 or send us an enquiry here.