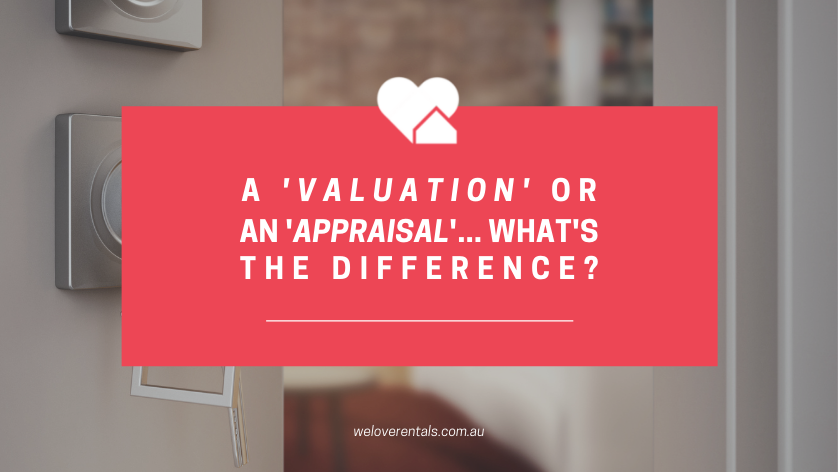 What is the difference between a property valuation and a property appraisal?
Property valuation vs appraisal
Many property owners use the terms "property valuation" and "property appraisal" as if they are interchangeable.
Let's compare the difference between a property valuation and a property appraisal.
Book a Free Rental Appraisal Now
What is a property valuation?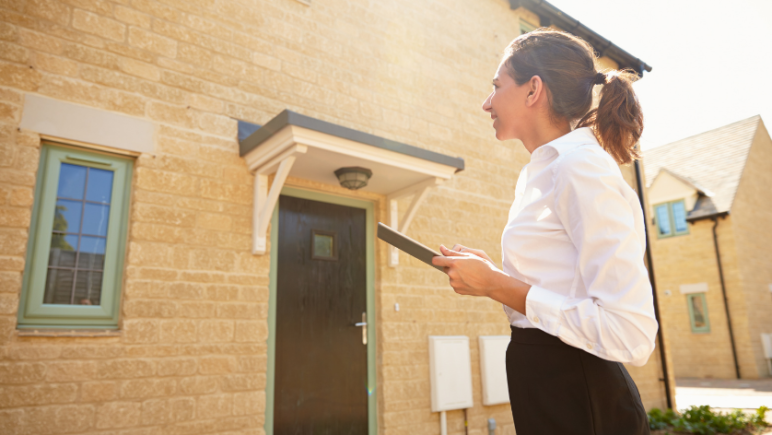 A property valuation, often referred to as a sworn valuation, is more detailed way to report on a property's value. Only a qualified, licensed valuer can prepare a valuation. 
A key difference between valuations and appraisals is that valuations are not free — even the least expensive valuations cost hundreds of dollars. 
Fees vary depending on the size of the property, the purpose of the valuation, how senior the valuer is, and many other variables.
Key Features of a Property Valuation
A valuation is more detailed and uses a more in-depth process.
It must be compiled by a qualified, licensed valuer, using 'best practice' valuation conventions and procedures. 
Like an agent, a property valuer typically considers:
number of bedrooms/bathrooms 

land size 

comparable local sales/rentals 

building structure/layout 

property condition 

location/proximity to desirable amenities

market conditions.
Depending on the purpose of the valuation, it may detail:
zoning/redevelopment potential

capacity to generate income 

interests held over the property (easements, heritage listing, flood risk etc.)

building replacement costs 

risk ratings including environmental factors

other variables impacting value (government grants,  legislation etc).
Property valuations should justify its findings, include any sources/relevant government data, and explain any limitations. 
What is a property appraisal?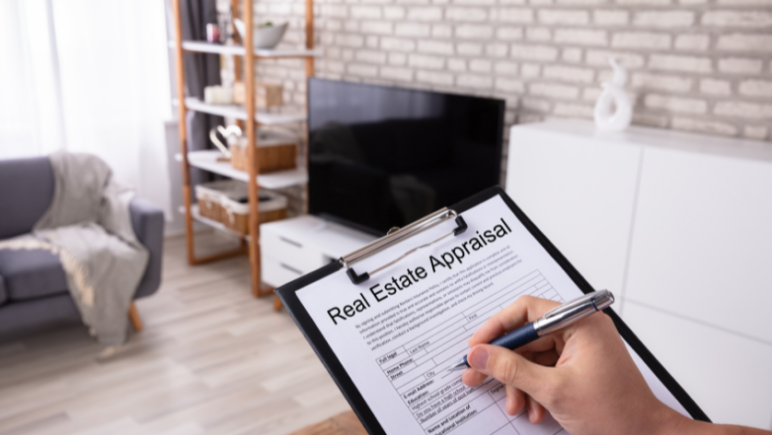 A property appraisal is a guide to pricing your property for sale or rent. 
In real estate, a 'market appraisal' is a report prepared by an experienced real estate agent (or their property manager or sales representative). The appraisal is prepared to help a property owner decide what rent or sale price to ask.
An appraisal is an estimate of market value at a point in time. Market value is defined as the price an informed, willing buyer will pay to a willing seller.  This figure is usually largely based on a Comparative Market Analysis report (CMA).
The CMA is calculated using an industry database the agency subscribes to and is based on recent prices achieved for similar properties sold/rented. It may also reflect the 'asking price' of currently advertised properties.  
Ideally, the CMA only includes comparable properties. 
Comparable properties have key features in common with the appraised property. For example:
similar number of bedrooms and bathrooms 

similar land area (houses)

similar age, style and quality  

similar features (air-conditioning, garages, etc). 
The CMA is a key tool, but an appraisal value will also reflect the agent's experience of the real estate market and the property's unique features. While on paper it might look like it's worth X price, any experienced agents will be able to spot the unique aspects that might make your specific home worth more than the rest in its 'bracket'. 
A property appraisal should be prepared with care, provided in writing, and give a realistic idea of what the market will pay!
Key Features of a Property Appraisal
No matter how experienced the agent is, appraisals are considered an opinion or estimate of market price, not a valuation. 
That said, real estate agents have expertise in their own right and are often very accurate. 
Property owners can expect an agent's appraisal to be prepared with due care, be based on factual data, and honestly reflect the market as the agent sees it. 
An appraisal will reflect the agency's expertise and local knowledge. 
As discussed earlier, appraisals will factor in:
features and amenities

values of similar local properties 

market trends

supply and demand.
The appraised price range will be what the agency feels confident they can achieve for the property owner, so it is a good guide to setting rents or the asking price if selling.  
Appraisals can vary greatly between agents —  so do your homework. Look for an agent with solid local knowledge, ask for testimonials, and be realistic. 
Book a Free Rental Appraisal Now
Do I need a property valuation or appraisal (for my house, unit, or apartment)?
The reason you need to obtain the potential worth of your property will determine which option you choose.
Book a property valuation when…
A valuation may be desirable for very valuable and highly unusual properties and where a certified value is needed. 
A valuation is often sought:
when applying for finance using the property as collateral

to calculate capital gains or for other taxation purposes

to establish past value (a backdated valuation) 

when distributing property from a deceased estate 

when dividing assets in a divorce settlement

where land is being resumed by government

to reassure buyers of the value of a property 

when re-financing your mortgage

when holding property in a Self Managed Super Fund (SMSF).
Request an appraisal when…
An appraisal is ideal when you would like immediate information on value, current market trends and how your property compares with similar properties on the market right now. 
It can be the most practical, cost-effective and timely solution when:
engaging a real estate agent to sell your house, unit or apartment

hiring a property manager to let your house, unit or apartment (check out our popular guide to Western Australian property management fees).

considering whether to sell your house, unit or apartment, or continue renting it out. 
An appraisal is an estimate of price. It will not give the property appraised an absolute value, but it gives a realistic idea of the price or rent range to expect. This can then be adjusted as your agent gets feedback from viewers at each home open.
Another benefit is that an appraisal can be updated in real-time, to reflect current market trends.
Real estate agents and property managers have access to the most recent transaction data and know from experience how to interpret this. 
In addition, a market appraisal is usually offered free of charge, making it a highly economical option. 
Is a property valuation the same as an appraisal?
No. An appraisal is a written estimate or opinion of what a property would sell or rent for, in the opinion of a real estate professional.
It is based on objective sales and rental data from industry databases, and on the experience of the person preparing the appraisal.
A valuation is a detailed report giving the certified value of a property. It must be prepared by a licensed valuer and considers many aspects of value. A valuation is time-consuming and expensive to prepare but will be accepted by lenders and government departments. 
Book a free property appraisal with We Love Rentals
If you're considering leasing your property, let us help you get the best rent possible by providing a free market appraisal.
Our property managers have years of experience in the property market, assessing trends, analysing suburb-specific data and getting great results for landlords. We pride ourselves on our accurate appraisals.
If you want help to get your rental property to the next level, give us a call on 08 6254 6300 or book a free market appraisal today!