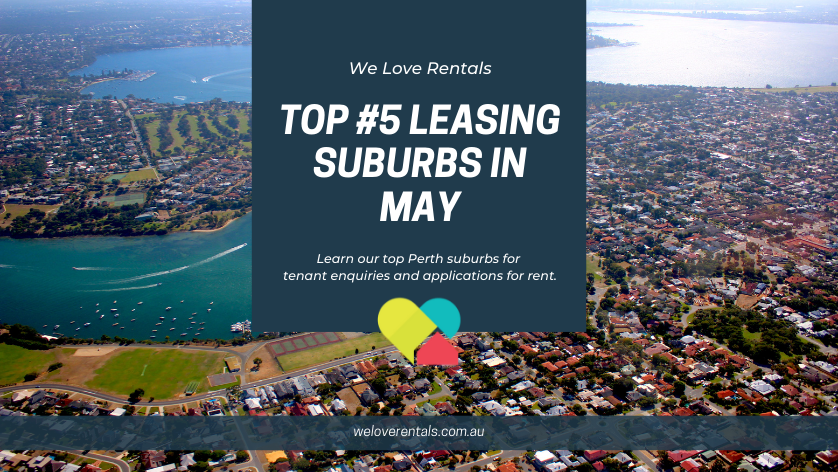 Top Leasing Suburbs in Perth May 2021
Investor confidence is on the way up as Perth rents continue to rise.
In the last 30 days We Love Rentals recorded 852 rental enquiries and 51 tenant applications – here are the top leasing suburbs in Perth May 2021.
Top #5 Perth rental suburbs for tenant enquiries
Rivervale

Brookdale

Beckenham
Top #5 Perth rental suburbs for tenant applications
Rivervale
Investor confidence is making a comeback
As we head into June it's now been two months since the moratorium was lifted, with an almost instant effect. Investors are finally flowing back into the Perth buyer market, now that landlords have been reinstated with their right to evict tenants on reasonable grounds, and raise the rent in line with market expectations.
According to recent results from the Australian Bureau of Statistics, investor finance was recorded at $453 million in April 2021 – up by a massive 164 per cent compared to April 2020.
Moreover, March 2021 activity was recorded at $441 million – up 94 per cent compared to March 2020, which was $227 million.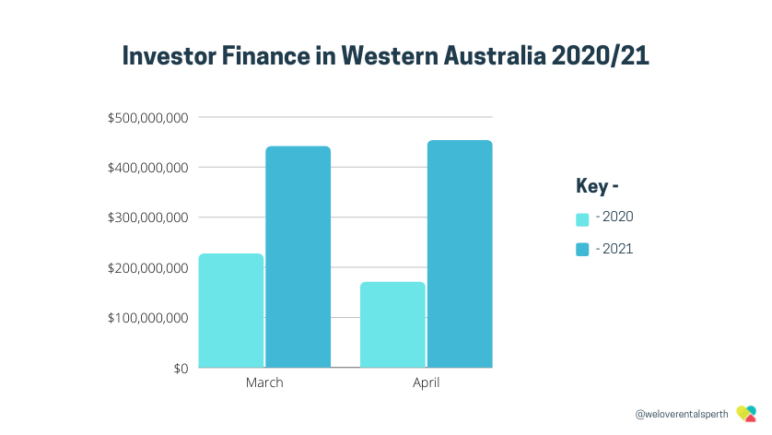 These numbers are a welcome validation that the current rent market conditions are much fairer for landlords, and are yielding some of the most positive rental returns in many years.
Now that the risk of having to support a non-paying tenant indefinitely has been reduced, investors are seeing the value in Perth property – still the most affordable capital city to buy in – and are jumping in before prices grow too high…
"If you're looking for a suburb to invest in, my pick is Mount Nasura. It's well established with great public transport, shops and schools and in our agency's experience, rentals in that area are always scarce and well sought-after. And don't leave it too late, I predict Perth home prices will rise 20 per cent in the next 12 – 18 months, on top of the rapid growth we've already seen this year."
Brendan Leahy, CEO of We Love Rentals
Rent increases, will they continue?
Yes! In case you missed our last update, rents are predicted to grow 7.5 per cent in 2021, as well as a further 7.6 per cent in 2022 according to the NAB Quarterly Australian Residential Property Survey for March 2021.
To put that in perspective, if your rental is currently rented for $400 per week, you could see an increase of $30 per week this year, and another $30 per week next year, which equates to an additional $4,680 profit over the next 24 months. And if you include a 6-month rent review into your new tenancies, you may even see more.
On top of that, Perth home prices are forecast to rise by 15 per cent this year, so landlords are set to enjoy some well earned capital growth. Especially with investors back in the market; the bidding wars between owner-occupiers, first-home buyers and investors will likely keep pushing prices up.
Why are Perth landlords still choosing to sell?
It's been a tough five years for landlords that purchased their investment properties at the top of the market and had to endure declining rent returns, difficult tenants, and negative capital growth.
While 2021 has delivered a rental boom and a re-balanced market going forward, there are many landlords who would prefer to take advantage of the booming sales market, while they can.
If you are considering selling your investment property, get in touch with our property managers here. They can put you in touch with an experienced agent who:
Knows your suburb

Can advise you which updates/renovations will help get the best price (or if you're better off selling 'as is')

Can tell you your rights and responsibilities if you plan to sell with tenants occupying your rental

Can tailor your sale to prioritise finances, a speedy sale, or both, depending on your unique circumstances 
Book an obligation-free sale appraisal with an agent from our sister company, Naked Edge Real Estate here. They have 15 years experience selling Perth homes and would love to assist you.