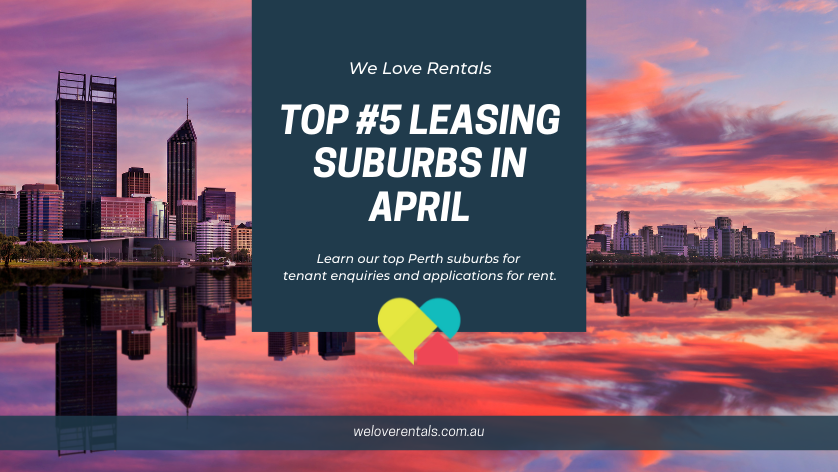 Top Leasing Suburbs in Perth April 2021
Rental activity was strong in April! Read on to learn our top leasing suburbs in Perth this month…

In the last 30 days We Love Rentals recorded 523 tenant enquiries and 49 tenant applications for rent…
Top #5 Perth rental suburbs for tenant enquiries
Rivervale

Hilbert
Top #5 Perth rental suburbs for applications
Hilbert

Rivervale
Rental activity in April 2021…
Compared to the record number of tenant enquiries and applications in March, April was about half as busy. However, enquiry and inspection levels are still well above what it was this time last year.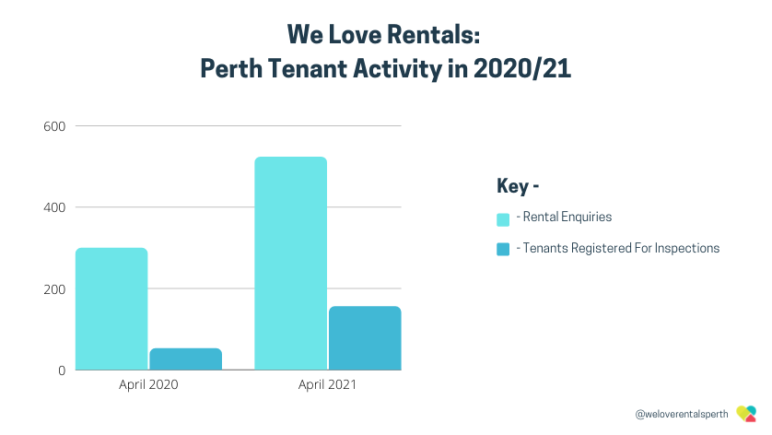 It's also likely that the rental surge in March was heavily influenced by the COVID-19 moratorium on rent rises and evictions ending on the 29th of March. So it's positive to see activity looking a little more balanced now that one month has passed.
In saying that, rent prices are still rising, and our property managers predict they will continue to rise throughout 2021 due to low rental supply and the stage of the property cycle that Perth is in at the moment (the Boom stage).
So, if you are due to re-let your rental, or your tenants lease is coming up for renewal, be sure to include a 6-month rent review into the new lease. This way you can keep your rent in line with market expectations.
Gradual rent increases like this also help avoid a larger, 'shocking' rent increase in 12 months time.
What was the highest rent increase our agency recorded this month?
On average, rents are increasing by about $50 per week across the board, and all align with the current market. The highest rent increase We Love Rentals recorded this month was for a unit on Albany Highway in Gosnells – it went from $240 to $330 per week, which is a $90 increase!
While this is a dramatic increase, the previous rent was actually much lower than market value (which is quite common for a lot of rentals pre-COVID-19). And though it's never nice for tenants when the rent goes up, Perth rents are still among the most affordable out of all the Australian capital cities (see the table below).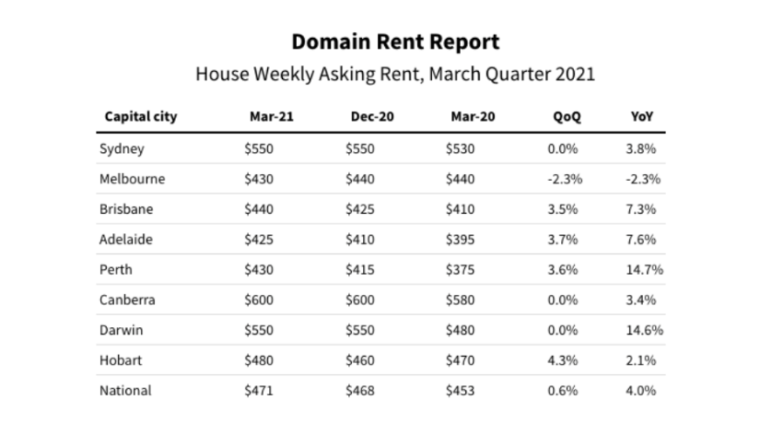 Perth rents are still more affordable than Sydney, Canberra, Darwin, and Hobart, and are on par with Melbourne at the moment. Perth rents are also much less than the national average of $471 per week.
The next highest rent increase was for a 4×2 in Queens Park, where the rent rose by $65 per week. Much closer to the average of $50 per week.
Most of our landlords have been mindful of putting rent increases in place if they know their tenant can't afford it.

Are certain types of rentals in more demand than others at the moment?
Everything, whether it's got 1, 2, 3, 4, or 5+ bedrooms, old or new, is renting right now – thanks to high tenant demand.
Well presented rentals are getting the most enquiries, home open attendees and applications, and are leasing for well above the asking price off the back of the high activity. So if you're a landlord looking for your next tenant, it's well worth your time and money to give your rental some aesthetic updates, like:
Redecking, re-painting, renovating kitchens and bathrooms

Cleaning floors and surfaces, oven, stovetops and rangehoods, and windows

Mowing the lawn

Adding an air conditioner and a dishwasher

Give your rental a fresh coat of paint (choose ONE neutral color)

Need some professional advice on how to prepare your home for rent? Get in touch with Sarah Leahy here. She can tell you the most cost effective updates for your rental that will boost your rent price.
Landlord FAQs
What was the busiest home open our agency had this month?
A 3×2 rental in Hilbert had 10 parties come through and was leased after the first viewing for $400 per week. 
Do you think prices will continue to rise at a rapid rate?
Yes! It's the stage of the property cycle we're in at the moment (the Boom stage). There are a few telltale signs that we are in the Boom stage, like:
Rents and sale prices increasing rapidly 
According to REIWA Perth home prices are forecast to rise by 15 per cent in 2021, which is a fair jump from their initial forecast back in November 2020 (at 10 per cent growth). REIWA were forced to re-evaluate their forecast after strong demand resulted in greater than expected gains in the first 3 months of 2021.
What's more, rents are predicted to grow 7.5% in 2021, and a further 7.6% in 2022 according to The NAB Quarterly Australian Residential Property Survey for March 2021.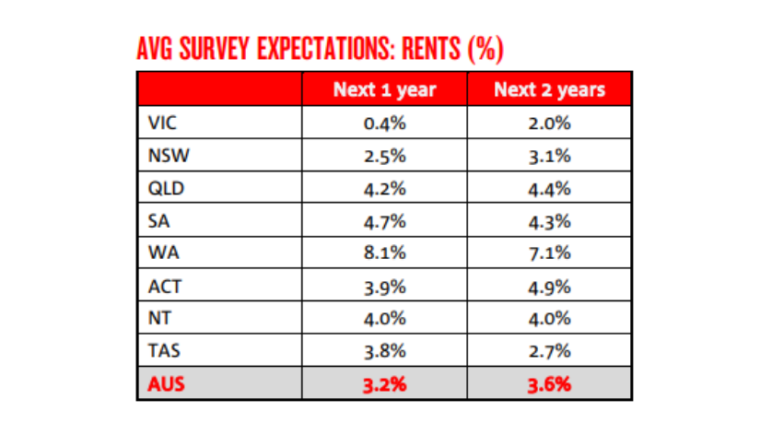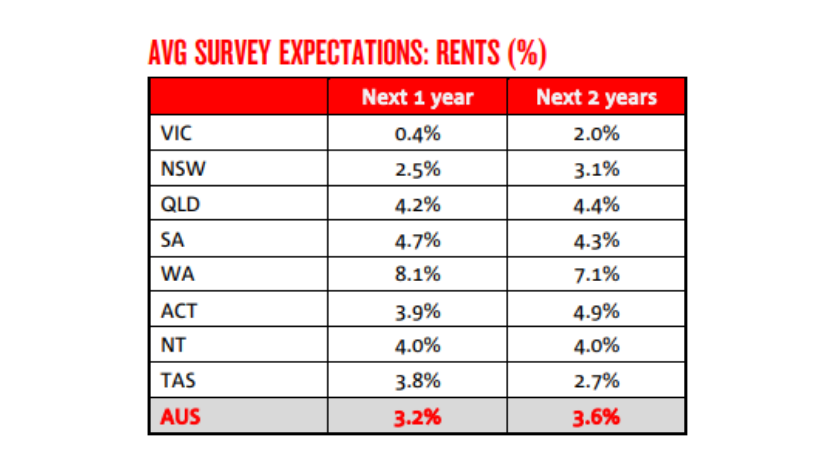 Off the back of the HomeBuilder incentives, WA is experiencing a labour shortage, particularly for bricklayers and plasterers. So much so that the price for bricklayers has increased from around $1 in late 2020, to as high as $2.50 in 2021.
The short supply is expected to blow out building timelines by months, which could keep soon-to-be homeowners renting for longer.
More buyers than sellers,

and

more renters than rentals available 
Perth's median house price has risen above $500,000 for the first time since 2018, thanks to low supply and surging buyer demand. And in the rental market, the Perth vacancy rate is currently sitting at 0.9 per cent… in WA history it has only ever fallen below 1 per cent a handful of times.
What's more, there are 48 per cent less properties available for rent than there were just 12 months ago. 
Intense media interest in housing
The number of housing related articles being posted since COVID-19 first hit in early 2020 has increased dramatically as a result of the Perth vacancy rate plummeting from a very balanced 2.4 per cent in January 2020 down to 0.9 per cent in September 2020.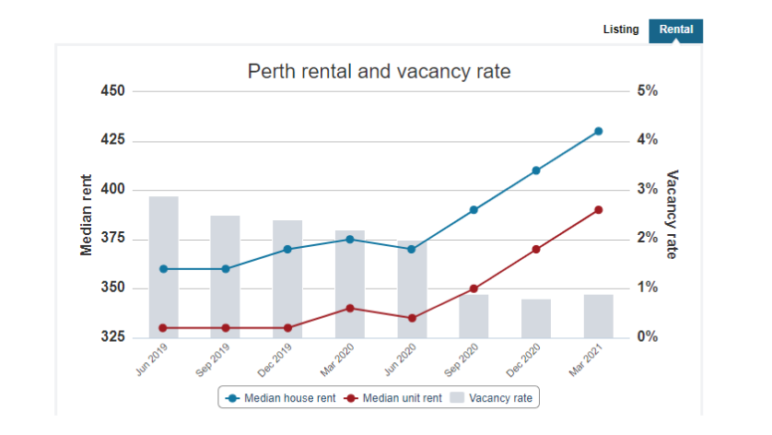 "Lots of landlords that have been very patient over the years are deciding to sell their rentals, but I'd strongly encourage you to hold onto your rental for another 12 months at least, so you can enjoy some capital growth, as well as a great rent return."
Brendan Leahy, CEO of We Love Rentals
What was the top reason tenants decided to move this month?
The top reason tenants were moving this month was because their landlord had decided to sell the rental or move back into it. The next highest reason tenants were moving was because rents had risen and they were looking for something more affordable.
Thinking of listing your home for rent? Book an appointment with Sarah Leahy here or call us on (08) 6254 6300.