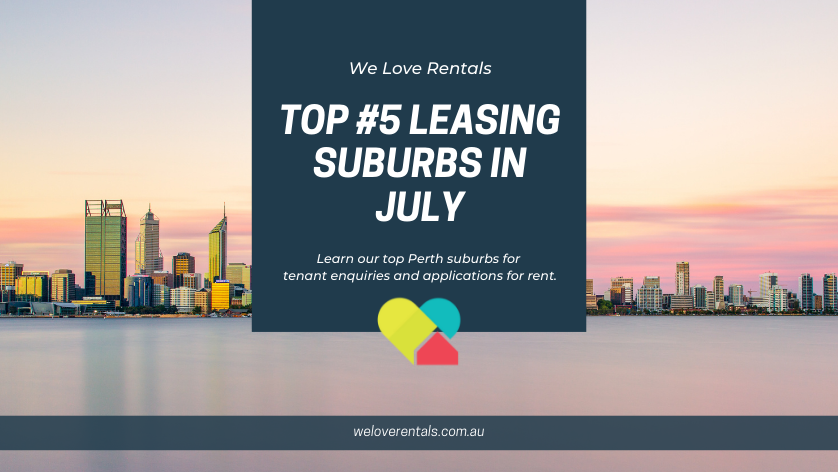 Top Leasing Suburbs in Perth July 2021
A new suburb took out spot #1 for tenant enquiries and applications this month!
There's also some positive news for tenants PLUS the proposed reviews to the Residential Tenancies Act (1987)…
In the last 30 days We Love Rentals recorded 1,268 rental enquiries and 181 tenant applications – here are the top leasing suburbs in Perth July 2021…
Top #5 Perth rental suburbs for tenant enquiries
Brookdale
Bayswater
Thornlie
Mount Lawley
Top #5 Perth rental suburbs for tenant applications
Brookdale
Bayswater
Thornlie
Mount Lawley
Hilbert
What's the positive news for tenants?
This month the vacancy rate had its first increase in 10 months, from 0.9 per cent in September 2020, to 1.2 per cent in July 2021.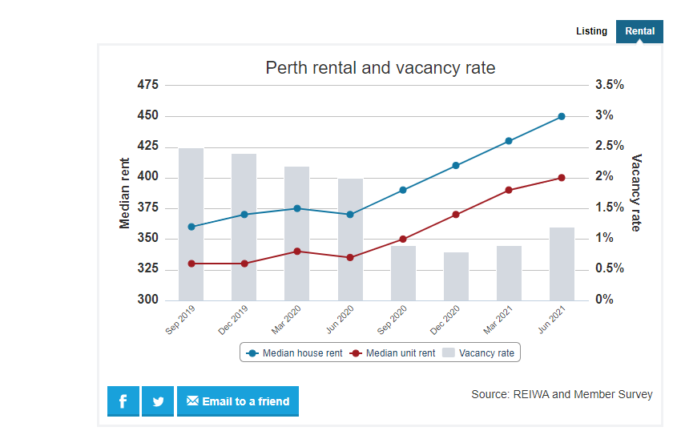 It's a positive sign that lifting the rental moratorium has helped free up rental stock.
The other good news is the number of investors is continuing to slowly increase. The sales agents at our sister company, Naked Edge Real Estate, have gone from seeing no investor activity 12 months ago, to seeing (on average) between 10-15 per cent of their enquiries and calls coming from investors, depending on the property.
As a result, investor loan approvals have increased by 10 per cent compared to April 2021, and a whopping 209 per cent more than May 2020 (REIWA, 2021). The higher these numbers climb, the more it will help WA's rent supply shortage.
The Naked Edge Real Estate agents also noted an upswing in interstate investors, who were also non-existent last year. Perth has been known to offer higher rent yields than rentals in the eastern states, so this doesn't come as a big surprise.
Also in line with typical investor behaviour, their most active price bracket for investors to enquire on was anything below $400,000, which means we may see first home buyers squeezed out of the market. Provided that no new changes are introduced that discourage investment (like the moratorium extension did)!
A word of caution to self-managing landlords
Since the rental moratorium has been lifted our property managers have seen an increase in the quantity of good tenant applications, however, they have also noticed an increase in the number of unfavourable tenant applications.
In the same way that scams have gotten more sophisticated during COVID-19, so too have deceptive tenant applications.
If you are in the habit of trusting what's written on an application without cross checking the information, or relying on a 'gut-feel' to choose your tenants, now is the time to double check things like:
100 points of identification
Current employment reference/s (number of regular hours worked, how long they have been employed there, confirmation of salary or pay rate amount)
Proof of current and previous rental addresses
Past and present rent references (inspection reports, rent arrears, general communication throughout the tenancy)
Proof of income (bank statements)
Check if they have been blacklisted on any of the three national tenancy databases for unpaid rent arrears, or property damage etc (only property managers have access to these)
Vetting your own tenants? Read our in-depth blog on how to find the right tenants here.
What could the Residential Tenancies Act (1987) review mean for landlords?
This year the Residential Tenancies Act (1987) review is due to be released, however, industry experts are warning that any changes could hurt investor confidence, which has only just started to improve in WA.
REIWA President, Damian Collins, agrees that it is a precarious time to be making changes – as we saw the moratorium on rent evictions and rent freeze scare most investors away.
With this in mind, REIWA submitted a strong case on behalf of all WA landlords last year. You can read the full REIWA report that was submitted here.
Any changes could affect your right as a landlord to:
Choose a fixed or periodic lease for your rental tenancy
Choose to end a periodic tenancy without grounds if necessary
Determine the suitability of a pets at your rental property
Ensure the compliance of your rental with current housing standards
Require consent from your tenant regarding modifications to your rental
And more.
Having seen how integral strong investor activity is to a balanced rental market (for both landlords and tenants), hopefully no unreasonable, drastic changes will occur that could discourage investment going forward, or put pressure on existing landlords.
Thinking of renting out your Perth property? Get in touch with Sarah Leahy for a chat here. Our family-run management team would love to help take the stress off your shoulders, and answer any questions you may have!