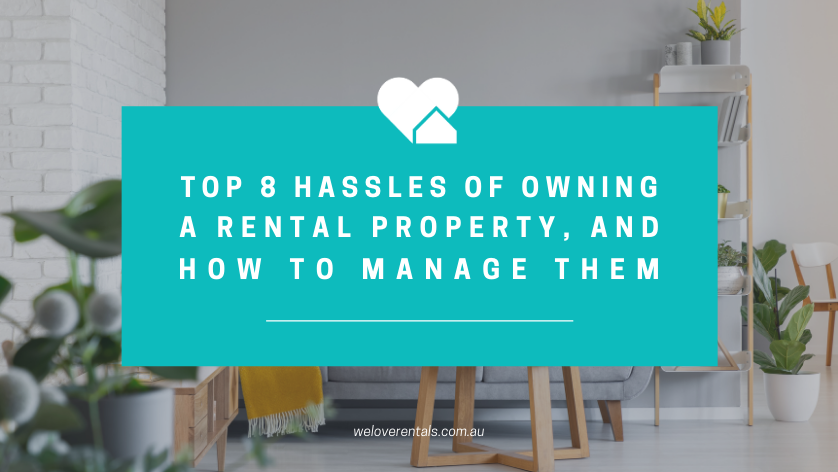 Top 8 Hassles of Owning a Rental Property, and How To Manage Them
Whether you're a new or experienced landlord, you'll already know that owning a rental property can be a mixed blessing. 
While rental properties can be a great source of income, it's crucial to know what kinds of issues you can run into and how to resolve (or avoid) them!
In this blog, we'll discuss some pitfalls you might encounter — from late or unpaid rent to lease or regulatory breaches — and suggest strategies to deal with them.
Firstly, we need to stress the importance of engaging a trusted property management team. Their fees will save you hours of heartache and often thousands of dollars in the long-run. Just make sure you're not paying over the odds. See our guide to demystifying property management fees.
Here are some of the hassles that come with owning a rental investment property:
Finding a new tenant at the right rent 
When it's time to find a new tenant, landlords are sometimes disappointed with the rent they receive.  
Lower rents are often market-driven, but can also be impacted by landlords failing to renovate or refresh their property between tenants. 
SOLUTION: Consider the market and your property's strengths and shortcomings leading up to the end of the lease — your property manager can advise on this. 
Plan any maintenance, repairs or renovations well ahead. This will help you get the rental price your property deserves! 
If you're unsure what needs doing, consult your property manager. They have the experience to help you plan a winning rental management strategy and be aware of past tenants' feedback and current prospects' needs.
Late rent payments
Private landlords often don't have the resources to effectively screen applicants, leaving them at the risk of accepting unreliable tenants.
Don't be caught short — cashflow is vital to pay your bills and expenses!
SOLUTION: Using a property manager is your best bet. They offer access to extensive reference-checking resources. 
Your property manager will: 
check tenants' history via

specialised tenancy databases 
verify tenant income with employers

(this can be awkward for landlords…)

follow up promptly if rent isn't paid on time.
A property manager can also help you rank applicants strategically — for example, two employed applicants sharing may be less risky than one applicant with the same total income. (If one tenant loses their job, there is still another income). 
NOTE: At We Love Rentals, we have access to all three major tenancy databases, unlike many property management agencies. 
Neglected properties
Landlords often have a deep attachment to their rental property — it is a significant asset and may also be their family home. 
Realistic landlords accept that any tenanted property will suffer some fair wear and tear, such as worn carpets, scuffed paint and faded curtains. 
However, a lack of basic maintenance or tenant damage is a different matter. 
Damage and deterioration that is not "fair wear and tear" should be claimable from the bond, whether it is accidental (like red wine spilt on a carpet) or deliberate (like a smashed lock). 
SOLUTION: The distinction between fair wear and tear and damage can be a grey area. That's why it helps to have an experienced property manager. 
They can:
vet potential tenants

via

tenancy databases

and

personal checks

to avoid tenants with a history of neglect or damage

negotiate bond claims confidently with tenants

 

represent you effectively in court

if necessary.
Expensive items needing maintenance or repair
One common financial pitfall for landlords is the cost of repairing or replacing expensive items like major appliances. 
SOLUTION: Scheduling regular maintenance of items like air-conditioning and pool pumps helps avoid a financial shock when something breaks down. 
Your property manager can help you with this! At We Love Rentals, we have a database of trusted, qualified and insured tradespeople who offer us competitive prices. 
Demanding tenants
Some tenants make unreasonable requests. 
For example, they might demand that:
new items are installed after the lease is entered into

(or

upgrades

to existing items)

minor maintenance is done by the landlord

that should be their responsibility under the lease (for example, changing batteries/light bulbs).
SOLUTION: Your property manager can advise you and act as an intermediary, firmly declining unreasonable requests. And make owning a rental property much easier. 
Risk of tenant or guest injury
Under common law, a landlord has a duty of care to take reasonable steps to prevent injury to tenants and their guests. 
Landlords must: 
ensure the property is

safe and habitable

comply with relevant

laws and codes 

carry out

repairs and maintenance as required by the Residential Tenancies Act 1987 (RTA) 

provide tenants

with

safety information

(including

Form 1AC "Information for Tenants"

) as per the RTA.
SOLUTION: Employ an expert property manager who can monitor the condition of your property. 
They will know the complex regulations around hazards such as:
pool/spa fences 

blind/curtain cords

smoke alarms

RCDs

safety glass

asbestos

toppling furniture

home security. 
Failure to comply with laws or regulations can expose landlords to accusations of negligence and compensation claims.
Risk of breaches and fines
Private landlords often aren't aware of all of their legal responsibilities. They can be at risk of breaches like:
not giving

proper written notice before entering the property

not

lodging bond money

with the

Bond Administrator 
enforcing rent increases

that are not permitted under the RTA.
SOLUTION: Get advice from an expert property manager and follow every law to the letter — this is how you stay out of court!
Going to court 
Sometimes landlords need to take legal action against tenants, and occasionally tenants do likewise! 
The tenant may have breached the lease by:
not paying rent 
damaging/neglecting the property

keeping

unauthorised pets

exceeding the

approved number of occupants.
SOLUTION: Seek advice — if the issue can be heard in the Magistrates Court, your property manager can help. 
We Love Rentals property managers are well-versed in court procedures and can represent you effectively in many matters. For more extreme issues, we will recommend consulting a property lawyer.
Your next move
If the prospect of owning a rental property seems intimidating, relax! An experienced property manager can help take away the stress, so you can get on with living your life. 
At We Love Rentals, our property managers manage a maximum of 80 properties each. They are experienced, approachable and will help you to get the best possible result from your property.
If you would like us to help you manage your property without all the stress, give us a call on (08) 6254 6300 or click here to request a free property appraisal!