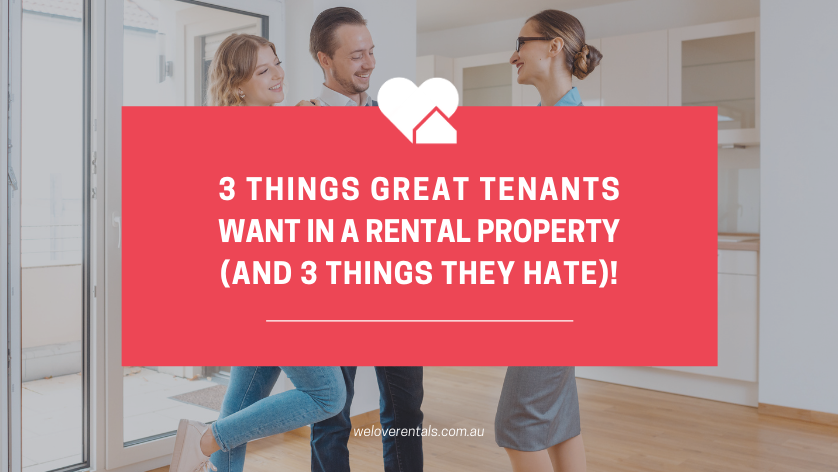 Trouble Finding Good Tenants? Learn 3 Things Great Tenants Want In A Rental (And 3 Things They Hate)!
The first step to finding good tenants for your rental, is learning what good tenants want!
When you're a landlord, one question that is often top of mind is "how do I find a great tenant, and how do I keep them?" 
We know what the ideal tenant is looking for at We Love Rentals, and we're here to help you get the maximum rent from your investment!
Read on to discover what a great tenant loves and hates in a rental property…
Tenants love: 
a recently updated property

excellent amenities

a responsive landlord and property manager
On the other hand, good tenants may be turned off by:
high-maintenance gardens

landlords saying "no" to pets

delays to moving in.
 TENANTS LOVE:
A recently refurbished property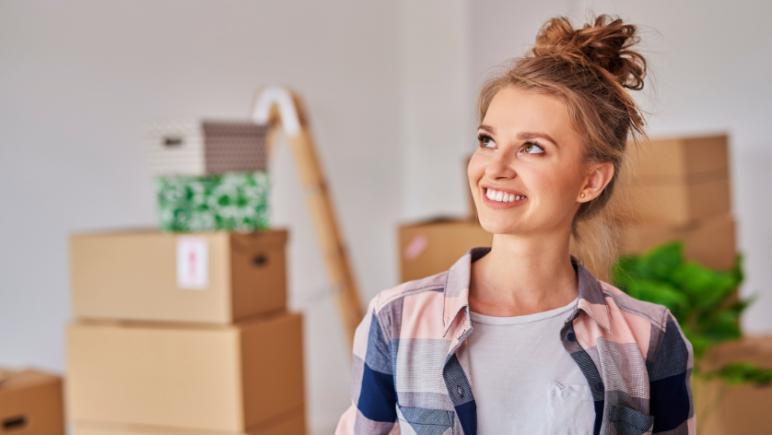 One of the important things a tenant appreciates is a property that has been looked after. It shows that as a landlord, you take pride in your rental investment. Consider:
updating kitchens, bathrooms, and/or window treatments

repainting walls

having the rental property professionally cleaned

improving '

street appeal

' (e.g.

planting flowers or painting the front door

).
A run-down home can scare off an applicant before they've even viewed the property; while one in top shape can make finding good tenants (and keeping them) a breeze. 
Essential amenities
To attract a quality tenant, a property should have some essentials, including:
a reliable, high-speed internet connection

air conditioning (preferably reverse-cycle)

a dishwasher

parking (preferably secure, off-street and undercover).
Amenities like solar panels, fenced gardens, bore water, ample storage and a prime location near schools, public transport and shops are also popular. 
A cooperative landlord and property manager
Your tenant's relationship with you and your property manager is paramount. For tenants, a landlord who is respectful of privacy and quick to approve repairs is gold. 
Optimising your property can be a lot of work, particularly with a high-pressure job and/or family responsibilities. In this case, a property manager can be invaluable.
They can:
liaise with tenants effectively

book reliable tradespeople

oversee repairs and maintenance.
We are an established Perth property management agency. Our staff manage a maximum of 80 properties, giving plenty of time to maintain your property to the highest standards. To request a free appraisal, click here!
Make sure you're not paying too much in property management fees.
A Good Tenant Hates
High-maintenance gardens or landscaping
Unless otherwise stated in the lease, tenants are usually responsible for gardening. Many tenants don't have a green thumb — if your garden requires a lot of upkeep, they may run a mile! 
If you've invested time and money creating an attractive garden, consider setting rent slightly higher to cover regular maintenance by a professional gardener. That way, you have the easier task of finding good tenants who can afford to pay a bit more. Rather than a tenant who will commit to regular gardening.
A rental that bans pets
Many tenants regard pets as family, and won't rent a property that doesn't welcome them — banning pets can lose you otherwise fantastic tenants. 
If you're worried about pets causing damage, don't worry. This is usually minor and claimable from the bond. 
WA law allows landlords to charge an extra pet bond for any pet capable of carrying parasites that affect humans (up to $260 unless rent is over $1200 per week).  
The pet bond only covers the cost of fumigating at the end of the lease — if fumigation isn't required, it must be returned. 
Note: Tenants with assistance/guide dogs cannot be charged a pet bond. 
Delays or disruptions
Moving house is disruptive to a tenant's life and so landlords and property managers can help alleviate stress by streamlining the process.
Before moving in
One of the biggest things a good tenant hates: delays to moving in! Delays also mean that there will be delays in the tenant paying the rent.
Have your ducks in a row — schedule work like pest treatments, updates to the property and professional cleaning well ahead of time. It will make the process of finding good tenants, and moving them in, faster.
When the lease is up
When the lease is due to end, you must give appropriate notice as required by the Residential Tenancies Act. 
Make sure you give at least 30 days notice for fixed-term leases and 60 days for periodic leases. (If selling the property, you can give 30 days' notice for a periodic lease.)
Other notice periods apply for circumstances like non-payment of rent or the property becoming uninhabitable. Your property manager can advise on these.
How to spot a good tenant
Once you've made your rental attractive to good tenants, you may still find it tricky to sort the good rental applications from the not-so-good ones. 
This is when an experienced property manager can lend a helpful hand. 
They know the common red flags to watch out for when a tenant looks too good to be true, and have a number of strategies to 'fact check' every claim, including:
Access to

national tenancy databases

Access to

rent history from past landlords

Verifying

proof of income

and

employment documents

Thoroughly

interviewing rental and employment references
3 qualities to look for in a good tenant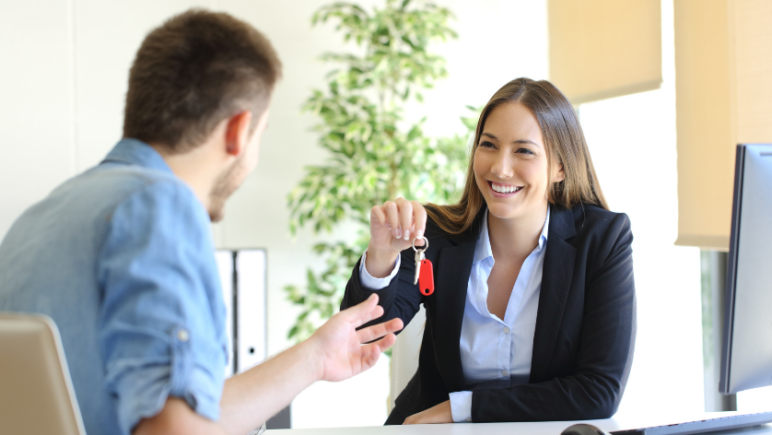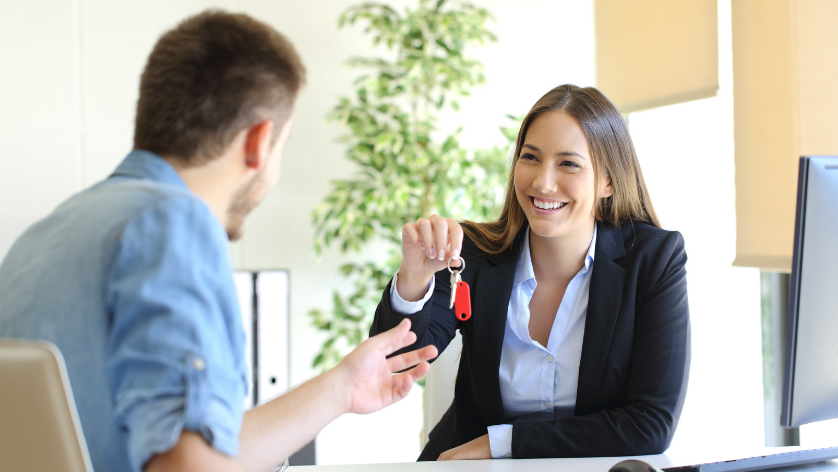 In our 14 years experience finding good tenants in the Perth rental industry, our best tenants display all 3 of these qualities before we approve their rental applications:
Reliability
A good tenant will be true to their word and respect your time. Take note of how well they follow through on their promises, such as:
Attending (and

departing

) the rental viewing on time 

Providing

accurate information

on their rental application

Promptly supplying additional references, contact details, payslips, or ID when requested
If they complete these tasks in a timely manner, it's a good indication that they will treat paying the rent, reporting property maintenance, and preparing for an inspection with the same standard.
Good Communication
A good tenant will be easy to contact and quick to notify you of anything important regarding your rental. Before you approve an applicant, check how:
Easy it is for you to get a hold of them

Long

it takes for them to get back to you 

Often

they contact you, and

for what reason/s

Forthcoming they are about changes to their financial or work situations
Good communicators are more likely to report property maintenance quickly, and allow easy access for repairs. They're also more likely to let you know if and when their rent may be late, so you can be prepared, and work with them to recover the funds quickly. Communication is a two-way street and part of a successful rental management strategy.
Flexibility
A good tenant will be willing to work with you and accommodate (within reason) for changing circumstances. When you're interviewing rental references, ask about how:
Cooperative

they are when rescheduling appointments

Accommodating

their availability is and

why

(or

why not

)

Open

they are to

negotiate

and

help

find solutions

 
A flexible and obliging tenant is easy to work with. They make arranging access to your rental a breeze and are more likely to meet you halfway when things don't go to plan, or an issue crops up.
What to do next
Even for experienced landlords, a property manager can help maximise rent return by finding good tenants. At We Love Rentals, we have extensive experience and screening process that helps landlords manage their investment property.  We can help make finding good tenants easier, and work with you to form lasting business relationships that benefit everyone. 
If you think we can help you manage your property, feel free to get in touch on (08) 6254 6300 — Brendan, Janine or Sarah in our family-run management team would be happy to help!