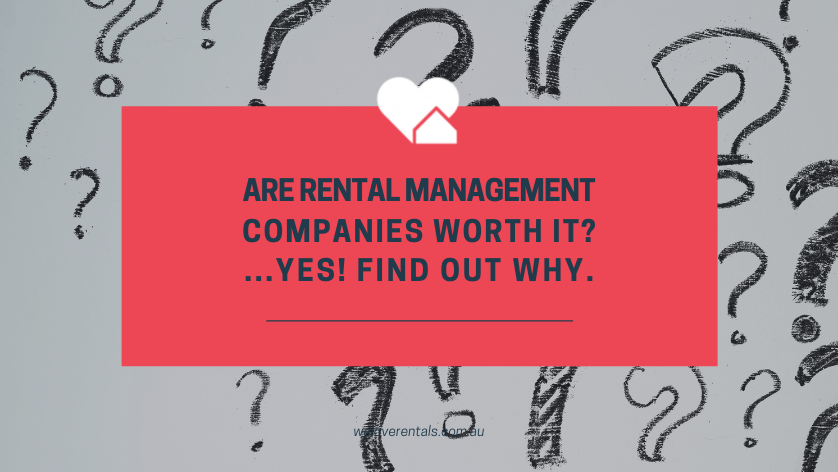 Are Rental Management Companies Worth It?
Every landlord asks this question at one point on their investment journey, "are rental management companies worth it?"
So you've had the farewell lunch, and left the 9 to 5 grind for good. You're sitting pretty, and you have big plans (whether it's days full of golf and gardening, or cruising and Zumba!)
Your rental property is what's made it all possible — it's given you a solid rent income and a valuable asset to fund your retirement.
Is this where you want to be in a few years? Then read on to see how your rental property could help you to achieve this.
Rental property as an investment strategy
If you are reading this, you've already decided to make rental property a crucial part of your investment strategy.
You've got your eye on the prize, and want to be an intelligent investor. And you're wondering whether a professional property management company and their services should be part of your strategy too.
Containing costs in property management
Like many private landlords, you've been managing your property privately to save on expenditure. That worked for a while — but now work is frantically busy, your tenants seem to be on the phone every other day, and the whole "DIY management" thing is getting way too stressful. A lot of rental property owners make this mistake. You're not alone!
Hiring a property manager is tempting… You could just hand over all the worry to someone else. But can you afford it? And will you get value for money? Some people have told you that 'it's just not worth the cost'. But is it?
Is hiring a property manager worthwhile?
On the face of it, paying for a property manager may just seem like less rent income for you — but there's more to the story!
Asking expert property investors
Property managers may cost money, but it's clear that many investors see value in using a rental management company.
You discover this when you start going onto online property forums to ask the experts what they think.
While some private landlords are staunch supporters of DIY property management, many investors say it's absolutely worth paying for great property managers. Here's proof:
"I have been a client of We Love Rentals for years now and have never looked back. They are fantastic!

I would particularly like to mention my property manager, Jodie Wilkinson. Jodie runs my property with military like precision and attention to detail. This means my tenants are always happy and I have few if any vacant periods. I guess, this is what is expected of a manager but Jodie is so much more.

She knows I don't want to be stressed out by the property so she looks after absolutely everything for me. She handles tenant issues, maintenance, strata management and everything else that arises. She even recommends improvements and little things that I would never think of that make my property more attractive and helps maintain its value.

Just recently, she sent me a list of items she recommended I buy to set the kitchen up with all new cutlery, crockery and appliances. I just had to go to K-Mart online, put a tick next to each item and purchase! She did all the rest.

I can not recommend Jodie and We Love Rentals more highly. Thanks so much."

Property investor, Graeme Muller
Costs versus benefits of hiring property managers
What does property management cost?
How much do agents charge to manage a rental property in WA? The answer is not set in stone.
Most agents charge a letting fee (usually equal to a week or fortnight's rent) and a percentage of the rent collected for ongoing management – industry surveys suggest this is typically between 8% and 12% in the metro area, and a little more in regional areas.
Some agents charge the higher end of the scale as an all-inclusive fee. Others charge a lower percentage but add extra for major management services.
These could include:
routine inspections
property condition reports
administration
lease renewal
court appearances.
This is usually based on either a set fee or an hourly rate.
All property management fees should be disclosed upfront and detailed in the written management agreement you enter into with the managing agency.
What are the benefits of professional real estate management?
As you find out when you "ask the experts", there are many benefits to using a property manager to manage your rental property.
Time is money
One key benefit is freeing up a substantial amount of your valuable time.
A good, low-maintenance rental will generally take up between 50-100 hours management time per year, with leasing and maintenance periods each demanding 10-20 hours at the drop of a hat. A landlord may have difficulty making space in their weekly schedule to accommodate these important rental tasks.
This is one of the most common reasons self managing landlords decide to engage a property management agency – they find that the extra 8%-12% in rent isn't worth the extra, often unpredictable, time commitment.
Instead of stressing over property maintenance, tenant communication, rental administration or chasing late rent, let your property management company handle the day-to-day minutiae!
Expertise in tenant selection
Another significant benefit is the expertise property managers bring to tenant selection. Good tenants are the key to a high-yielding property and a low-stress tenancy.
Property managers have years of experience in selecting reliable tenants, and their access to industry databases helps too. They are better equipped than most private landlords to find tenants who will care for the property and pay rent on time.
A good property management agency will immediately spot red flags and be on the case straight away if rent isn't paid on time.
Less stress over property management difficulties
Your property management company will look after your best interests and reduce the stress of owning an investment property.
Even low maintenance rentals can be stressful when hot water systems burst, tenants need to break their lease and move unexpectedly, or inspections aren't quite up to standard.
With an experienced property management team, you'll no longer be the "bad guy", saying no to pets and telling tenants to clean the oven. And someone else will take those late-night calls when the tenant has lost their key to the property!
Ditch the boring jobs
While your property manager will still consult you on critical decisions, they will take care of unpleasant and tedious property tasks for you.
Like what, you ask? Let us paint you a picture!
Is your:
Property due to have the gutters cleaned before winter? No stress, your property manager has had this in their reminders from day dot, called you this morning with an affordable quote, and booked the work to be done next week.
Tenant behind in their rent payments? It was, but a quick follow-up from your property manager and they've deposited the rest this afternoon. You don't need to keep checking your bank balance, or send through a rent receipt – your property manager has it all taken care of.
Rental in need of urgent maintenance at 4pm on Friday afternoon? Yes, but your property manager has spoken with the tenant and organized a contractor to attend the property within 48 hours at a reasonable price. A quick 5 minute chat to you to get the go-ahead, and you're free to enjoy a stress-free weekend.
Golf day anyone?
Get help with the hard stuff — tenancy law and more!
Along with these day-to-day tasks, your property manager will be aware of laws and regulations and handle complex renting matters. This guidance alone can make professional property management services worth the cost – one Perth landlord was fined $10,000 for not adhering to legal rental requirements.
Your property manager will know what to do if there are signs of lease breaches, or the property starts to look unkempt.
Property management professionals have an impressive grasp of technical rental matters like tenancy laws and insurance terms. They understand strata by-laws and how to serve breach notices properly. They can also appear for tenant disputes in the Magistrates Court.
All of these scenarios can be daunting for a private landlord who doesn't know the ropes!
Savings and capital gains for property investors
A skilled property manager will save you money by negotiating competitive rates with tradespeople and using preventative maintenance to keep your property in mint condition.
Because of this, professionally managed properties are more likely to hold or improve their capital value.
Fees charged by a property management company are usually fully tax-deductible, reducing the true cost to you.
NOTE: the cheapest property manager may not always be the best. They can end up costing you more in the long run if your property is poorly managed.
Look for a credible agency with excellent user ratings. Is it worth risking your most valuable asset for anything less?
Are there downsides to hiring a property management company?
Most property managers provide excellent service, but in every industry, there are occasional service failures. So you'll sometimes hear a landlord complain that an agency's service just wasn't worth the cost — but this is not the norm.
Be a savvy owner. Select your property management company carefully, and become one of those investors who swear by professional rental management services. These rental property owners enjoy low stress, strong income streams, and their property assets gain value over time.
Ask any property manager you consider what services they can offer you and what sets them apart from the others.
Some examples of this may be:
Achieving higher weekly rent prices than competing agencies
Low rent arrears per property portfolio, and case studies where tenant arrears have been reduced or cleared through the property manager efforts
A capped number of properties per property manager (so they always have time for you)
No outsourcing for important day-to-day tasks like property condition reports, attending routine inspections, or vetting tenant applications for the property
A high number of years experience in the property management industry specifically (not sales)!
It's also a good idea to always ask for testimonials.
Not all property management companies are equal, but once you've worked with a great one, you'll see their value.
So, are rental management companies worth it? A better question to ask it 'what is my time worth?
Level up your investment with We Love Rentals
At We Love Rentals, we're committed to providing you with outstanding, all-inclusive service. We charge just three simple fees for letting, management and court appearances (no unexpected extra costs here!)
Our property managers are experienced, strategic and specialise in rental properties, managing a max of 80 properties each so they have time to look after each one carefully.
At We Love Rentals, our service can help you take your investment property to the next level. Get in touch with one of our property management professionals on (08) 6254 6300 today, or send us enquiry here to find out more!