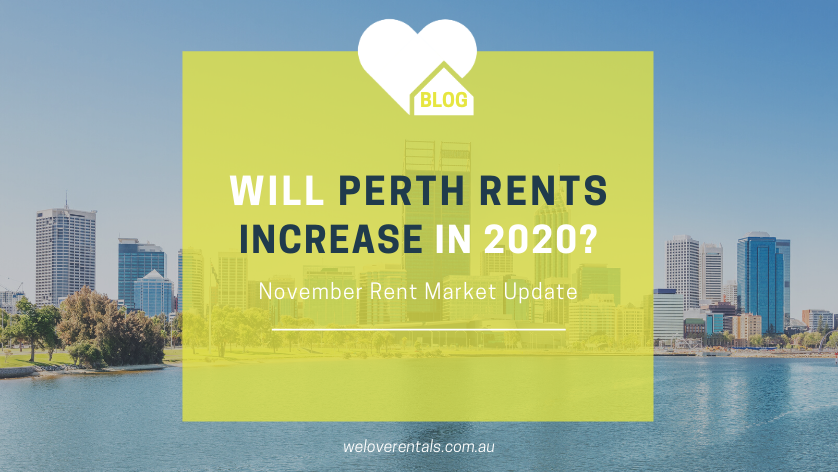 Hoping For A Rent Increase In 2020?
Hoping for a rent increase in 2020?
Key points:
More rent increases in September and October!
Perth rental demand is starting to outstrip supply
Investor and first home buyer activity is picking up
The WA economy is improving
Experts predict further rent increase in 2020
Great news for owners!
In the months of September and October there has been a big surge in tenant enquiries and applications on rentals. Which has helped secure some small rent increases for more of our owners.
"My owners had the choice between three applications for their rental in Armadale and I was able to lease it for $30 more than the asking rent.

And for rentals that didn't lease for more weekly rent, they still leased for the same price as the previous tenancy. Earlier in the year I might have lost some good tenants to cheaper, better rentals in the area. But because everything is being leased much faster, tenants now have less bargaining power."

– Jodie Wilkinson, Property Manager at We Love Rentals
Another encouraging shift in the Perth market is tenants are looking to buy their first home in the next 6-12 months. And so they are applying for shorter lease terms.
While this may seem like a negative for owners in the short term, it is actually a great sign for owners and investors in the long term. First home buyers and investor activity are key indicators that Perth is between the "stabilisation" and "upturn" phases in the property cycle. This is then followed by the "boom" phase.
"As always, successful property investment is all about long-term gains, and the Perth market over the next 5, 10 and 15 years is looking good for steady and regular growth. Some key long-term growth drivers to keep an eye on are employment growth and population growth.

In WA, mining jobs are back at boom-time levels, and interstate investors are tentatively returning to the market. These underpin the economy and have a direct impact on housing demand and supply."

– Sarah Leahy, Client Liason Manager at We Love Rentals
According to the latest rental figures, it's looking like the Perth rental market is heading towards a tipping point. If the Perth vacancy rate and stock levels continue to trend down.
Perth rental demand is starting to outstrip supply…
The Perth vacancy rate is currently sitting at 2.4 per cent and has been steadily declining from 5.5 per cent since November, 2016. As a benchmark figure, a rate of 3.0 per cent is considered to be a stable market. Anything below this is a good indicator the market is in recovery or "rebound" mode.
This decline coupled with 19 per cent less rental stock available than November 2018, should push Perth rents upwards over time. And increase rental yields for owners and investors.
Investor activity is tentatively increasing…
"There has been a small return of investors from outside Perth" says REIWA President Damian Collins. With interstate and overseas investors viewing Perth as a clear stand out compared to Melbourne and Sydney.
This is because Perth is far more affordable to invest in than Melbourne and Sydney. Perth's median sold house price of $467,500 is less than half the Sydney price of $949,000 and well below Melbourne's $741,000.

Want a rent increase in 2020? Learn our top ten tips on how to maximise your rent return.
The WA economy is improving…
Western Australia's economy is predicted to recover significantly in 2020, thanks to the mining industry. And is predicted to fuel housing demand and repair housing prices. WA mining jobs are at the highest level since the boom-time peak, at more than 106,000 people. In 2013 (at the peak of the last mining boom) more than 116,000 people worked in the sector in WA.
"WA's domestic economy should back strongly over the next few years in line with a recovery in the mining industry. This should flow through to improvements in the labour market and migration patterns. Which will underpin stronger housing demand conditions and price recovery," says JLL analyst Michael Willers.
Ready to speak with a rental agent and rent your property? Our experienced property managers can help you find a great tenant and take all the stress out of property management. Call Sarah Leahy on (08) 6254 6300 or send us an enquiry here. And you could get your first two months of rental management for free!