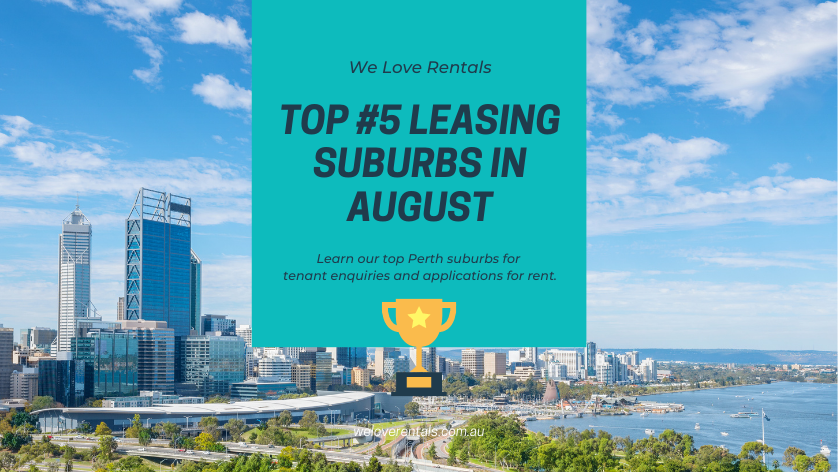 Lowest Perth Vacancy Rate In 12 Years | Rent Market Update August
The Perth vacancy rate fell to 1.6% in August…
While our agency vacancy rate sat at just 0.5%. It was the second month that we nearly ran out of rentals to lease! 
In the last 30 days, We Love Rentals property management recorded 162 tenant enquiries and 17 tenant applications.
Read on to learn our best performing suburbs for Perth rental activity…
What were the top #5 leasing suburbs for tenant enquiries in August?
Hilbert
Attadale
What were the top #5 Perth suburbs for rental applications?
For the majority of the month we had just the one rental available in Gosnells, which received the bulk of the tenant applications (15). Even though we had lots of interest and lots of applications on this rental, it took 4-6 weeks to rent as opposed to our usual 2-4 weeks because our landlord wanted to wait for the right tenant at the right price. And his patience was rewarded! Just last week we secured a great tenant who had a spotless rent record and great references for the top appraised rent price.
What does a low vacancy rate mean for Perth?
The vacancy rate (%) tells us how balanced the ratio of rentals to tenants is in Perth. When the Perth vacancy rate sits above 3% – 3.5% this generally means there are more rentals available than there is tenant demand. In this type of market, tenants have more bargaining power when choosing a rental, like how close to the CBD they live, how much rent they pay, and how long they sign a lease for.
However, when the Perth vacancy rate falls below 3%, this means there are less rentals available to meet the tenant demand. In this type of market, landlords have more tenant applications to choose from, more say over how much weekly rent their tenants pay, and more chance of securing a longer term lease.
During the last rental boom the Perth vacancy rate fell below 1% (2011 – 2013)… at 1.6% we don't have far to go before history repeats itself.
How fast did Perth rentals lease in August?
Perth rentals are leasing at the fastest rate since the 2015 mining boom, and the Perth vacancy rate is the lowest it's been in 12 years, currently sitting at 1.6%, while our agency vacancy rate was sitting at 0.5%!
It's been increasingly competitive for tenants looking to move, with an undersupply of new rentals to choose from, and the lightning-fast leasing times. Gone are the days when tenants could leisurely watch multiple rentals for a few months, wait to apply, and then negotiate the rent down. With the way the rental market is now, good tenants are needing to have their applications pre-filled, and even consider applying subject to viewing – otherwise they will miss out.
And there's no chance of negotiating the rent down on a good rental! In fact, if rental stock continues to plummet, soon tenants will need to consider offering $5 – $10 more per week, to help their application stand out from the rest.
This month our average weekly rent of properties leased went up by more than $50, from $370 in July, to $423 in August. Which marks the fifth month in a row we have recorded an increase. According to REIWA President Damian Collins, Perth is expected to see continued upward pressure on rents from here on out.
How many new Perth rentals were available for lease?
In line with rising rents and faster leasing times, it comes as no surprise that the number of Perth rentals available for lease dropped even further this month. According to REIWA data, there are currently 3,132 properties available for rent, compared with 6,617 rentals in the same week last year. That's 53% less Perth properties available for rent.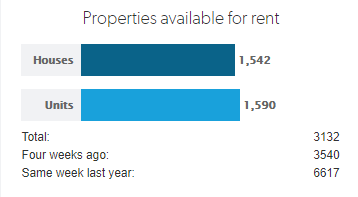 Rental supply isn't expected to improve any time soon either. Due to COVID-19, expats are returning to WA thanks to our strict border restrictions (the strictest in Australia), which is putting further pressure on rental demand.
And from the general feedback we've received, investors are either staying out of the market due to the uncertain conditions, or choosing to sell their investment properties.
Will the Perth rent market suffer when bank loans resume?
The "September Cliff" is just around the corner, and many are wondering if the stability and growth we've seen in the Perth rental market over the past few months will come undone as a result. The great news is that very few of our Perth landlords will be affected, as 99% of our tenants are still paying the same weekly rent.
For landlords that are being affected by COVID-19, the banks have offered a new extension to loan deferrals for another 4 months, and for tenants impacted by COVID-19, the government has extended the JobSeeker and JobKeeper payments until March, 2021 and the 31st of December, 2020 respectively.
Thinking of renting out your property but unsure of whether to wait until COVID-19 is over? Give Sarah Leahy a call on 6254 6300, she's got 10 years experience in the industry and can answer any questions you may have.