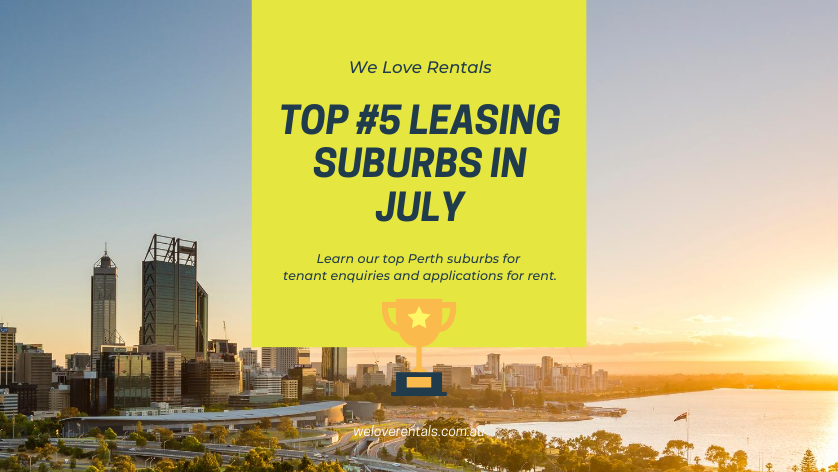 Perth Rental Shortage Continues | Market Update July 2020
The Perth rental shortage continues!
In the last 30 days We Love Rentals recorded 405 tenant enquiries and 33 tenant applications.
Read on to learn our best performing suburbs for Perth rental activity…
What were the top #5 Perth suburbs for tenant enquiries?
Martin
Maylands
What were the top #5 Perth suburbs for rental applications?
Martin
Maylands
How did the Perth rental market perform in July?
This month we were overwhelmed with home open bookings and enquiries while the Perth rental shortage continued! One of our rentals in Kelmscott recorded 15 parties booked for its first home open. Which is the maximum amount we can take through in one viewing – and leased for $30 more than the previous tenancy.
And on the note of rent rises, our average rent of properties leased increased by almost $50 this month! From $324 in June, to $370 in July, across rentals in Martin, Mount Nasura, Kelmscott, Gosnells and Maylands.
As an example, one of our 4×2 rentals in Mount Nasura leased for $500 per week when it was previously receiving $450 per week. That's a massive $50 increase!
Ideally increases like this would be applied to currently tenanted properties that are now due for lease renewals. However, with the current ban on rent increases under the Residential Tenancies (COVID-19 Response) Act 2020 we are prevented from applying any rent increases until at least October 2020.
But to give you a quick taster of the rent increases to come, if property managers were able to increase rents now, they would look something like this: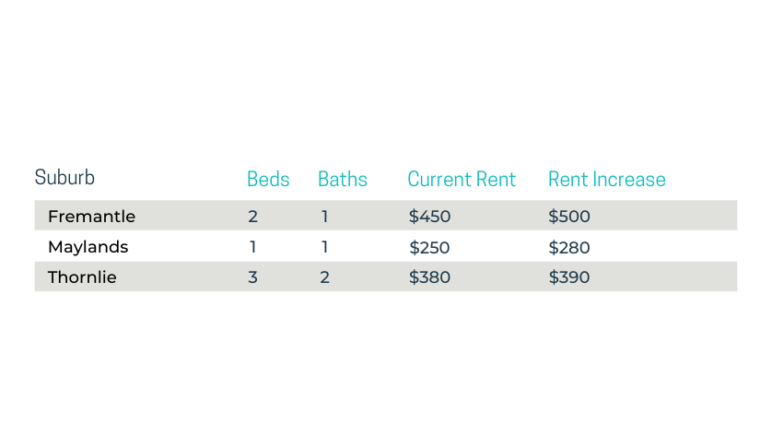 The exact price of each rent increase will ultimately depend on the suburb, and quality of the rental features. The 4×2 in Mount Nasura secured a high $50 increase because it had three living spaces and expansive gardens. But we estimate around $20 – $30 on average across the board. Which should help Perth rentals get back to an equilibrium between affordability for tenants and productive returns for landlords.
Did the number of Perth rentals available for lease continue to drop in July?
Yes! For the fourth month in a row there was a drop in Perth rentals for lease, down 423 rentals since June. And in fact, there are nearly 50% less Perth rentals available for lease now than there were at the same time last year.
The Perth vacancy rate is also sitting at just 2%, which is the lowest it's been since 2015. This is because investors are still yet to return to the Perth market, plus people who would normally work or live interstate have returned to Perth because of COVID-19. WA certainly feels like one of the safest places to be in Australia at the moment. We have not been adversely affected by low migration or tourism numbers. And have control over rising COVID-19 cases thanks to the strict border closures.
Are there any benefits to listing my Perth rental for lease in the current market?
Yes, there are three great benefits to listing your Perth home for rent now instead of waiting for the COVID-19 uncertainty to pass.
You'll find a tenant, faster. In the current market there are limited Perth rentals available for lease, so your property will likely lease faster.
You'll have a bigger number of better-quality applicants to choose from. Due to the limited number of Perth rentals available, you will have "the pick of the litter" from a bigger pool of applicants.
You're almost guaranteed a higher rent. At the moment, there is more certainty than at any point in the past 5 years that competition between Perth rentals is strong. The Perth vacancy rate has reached 2% for the first time since 2015, and almost all our new listings for rent in 2020 have leased for higher weekly rents than the previous tenancies. In our opinion it's best to secure a tenant in these fruitful times rather than risk renting the property at a lower rent in 12 months' time.
Is there a chance the ban on rent increases and the moratorium on rent evictions will be extended past the 30th of September?
There is a chance that it may be extended as a solution to provide security to those adversely affected by COVID-19. But REIWA is consulting with the WA Government and advocating to end the Emergency period on the 30th of September. A recent poll on the WA Property Managers page also showed that very few WA tenants are being evicted at the end of the emergency period. And the general feeling is that the Emergency Period should not be extended.
On top of this, our office has seen very few tenants failing to pay their rent. And feel this has a lot to do with the legislation stipulating that rent be deferred rather than waived. This means that tenants are very motivated to keep paying and utilising the government grants available.
How are Perth rent values performing compared to the other capital cities in Australia?
Better than most! Perth rent values increased by 0.9% in the June quarter (one of the only capital cities to record a rise, next to Adelaide which recorded a rise of 0.1 per cent) according to the ANZ/Corelogic Housing Affordability report for the June quarter 2020.
Perth and Adelaide also outperformed the rest over the 2019/2020 financial year, recording 2.2% growth.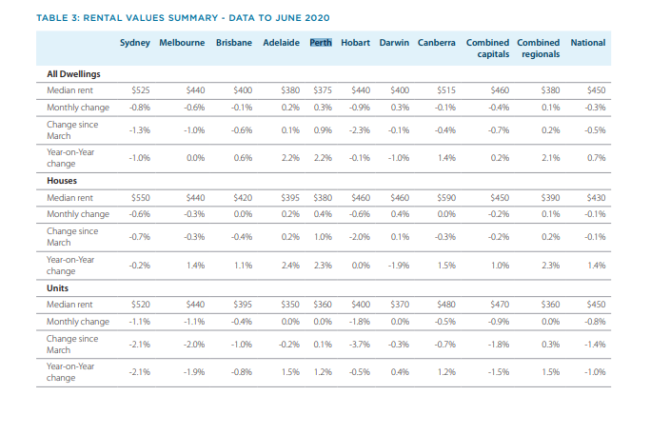 "Current Perth landlords are finally being rewarded for their patience over the past 5 years. And all the indicators across the mining sector (which is the biggest driver of the WA real estate market) suggest that Perth rent yields will continue to rise like this over the next 2 – 3 years."
Brendan Leahy, CEO of We Love Rentals
Ready to speak with a property manager and rent your Perth property? Our experienced property managers can help you find a great tenant and take all the stress out of renting your home. Call Sarah Leahy on (08) 6254 6300 or send us an enquiry here. And you could get your first two months of property management services for free!