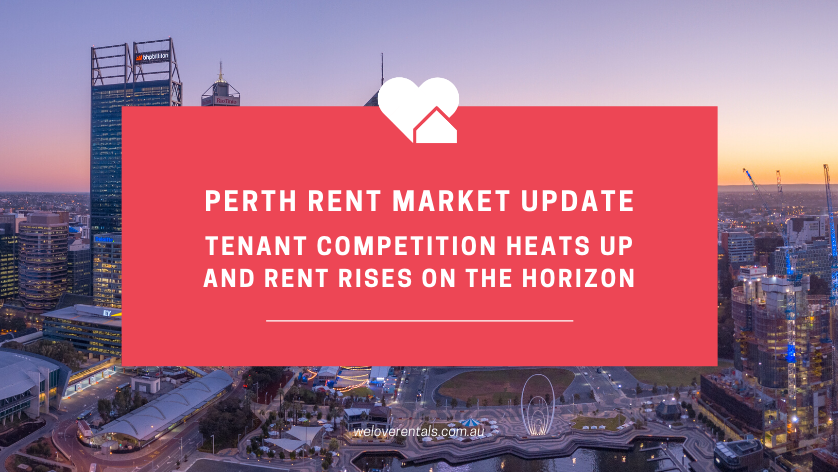 Perth Rental Market Update – Tenant Competition Heats Up And Rent Rises On The Horizon
Wondering how the Perth rental market fared in May?
In the last 30 days We Love Rentals recorded 475 tenant enquiries and 74 tenant applications!
Read on to learn our best performing Perth suburbs for rental activity…
Top #5 Suburbs for Tenant Enquiries:
Kenwick – 160
Canning Vale – 52
Riverton – 47
Hilbert – 47
Bentley – 45
Top #5 Suburbs for Tenant Applications:
Kenwick – 31
Ferndale – 8
Hilbert – 7
Riverton – 6
Kelmscott – 5
How did the Perth rental market perform in May?
Two words, strong and stable.
Frankly, it's like COVID-19 doesn't exist… Our property managers have had a steady flow of online enquiries, viewing attendance and tenant enquiries this month. Just like in April, there were no issues getting multiple tenant applications and leasing homes for market value, with some rentals leasing after the first viewing.
There is one red flag to be mindful of though – underpricing your rental. After speaking with some new Perth landlords this month, many are still sceptical about COVID-19 and are very worried they need to drop their rent to secure a good tenant.
We even had a few new landlords suggest reducing their weekly rent price below our appraisal figure. But they took our advice, kept their rent figure at market value, and guess what? We leased a rental in Riverton within 2.5 weeks. And a rental in Langford had 13 registrations for the viewing after just three days on the market.
Both very positive signs that the price is right, and there is strong rental demand in Perth.
So, do Perth landlords need to drop their rent to find a tenant?
NO!
According to the latest rent figures from CoreLogic, Perth rents are currently outperforming every other capital city in Australia. In May, Perth was the only capital city to experience a rise in weekly rents, while Hobart recorded drops of 1.4 per cent for house rents (about $10 per week), and 2 per cent drops for unit rents (about $15 per week) – quite a significant fall for the space of two months (since COVID-19 struck).
So, if you're still hearing negative news in the media about the long-term effects of COVID-19 on real estate, be mindful that these are national figures and predictions, which are being skewed by the eastern states data.
Why are Perth rentals performing better than rentals over east?
A few reasons the Perth rental market is faring so well is thanks to the lack of short-stay accommodation, and non-reliance on immigration and tourism. With COVID-19 measures keeping the international and state borders closed, the eastern states are seeing large numbers of would-be airBnB's flood the rental market, as well as rentals that are usually tenanted by international University students. With such a large influx of extra rentals available for lease (but no tourists, migrants, or international students to absorb them), it's no wonder they're seeing price drops.
But here in Perth it's the opposite – there's almost an undersupply of rentals. Our number of homes for rent is at a historically low level, which is resulting in more competition amongst Perth tenants.
According to the latest REIWA figures, the number of Perth rentals available is continuing to drop, with just 5,028 homes currently available for rent (compared to 5,696 four weeks ago, and 7,343 in the same week last year).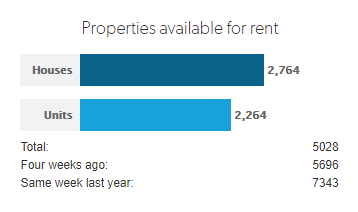 That's 668 less rentals than we had April, just four weeks ago.
And if the number of rentals continues to drop at this rate, Perth could see rent rises greater than $10 – $15 per week before the year is out. A very welcome turnaround for 2020.
If you're still feeling uncertain about how to proceed with your rental during COVID-19, feel free to get in touch with Sarah for a chat here. She can give you an up to date, accurate perspective of the Perth rental market so you can lease your rental with confidence.
What were the top reasons tenants decided to move in May?
The top reasons we noted from the 61 tenant applications received this month were:
Moving out of home for the first time
End of lease and wanting to change suburb
Moving to be closer to work and schools
In keeping with last month, the majority of rental applicants processed this month were moving due to lifestyle reasons, like changing suburbs, or moving so their commute to work or school is faster.
New listing rents have increased by $10 – $15 per week!
While rent increases on existing leases have been banned due to the COVID-19 state of emergency (which is due to end on the 30th of September, 2020), Perth weekly rents have increased by $10 – $15 on rentals that are new to the market. Which is advantageous if you've been thinking about renting your home out this year.
Unlike landlords with current tenancies in place, you can lease your home for the higher market price now.
And for landlords waiting until the state of emergency is over, you can look forward to the same (if not higher) rent increases in September –
"Come September when the state of emergency is lifted, I expect to see between 4 – 8 per cent increases in weekly rents. And some areas may see 10 per cent. Particularly the well sought-after suburbs that are close to public transport, schools and within 15km of the Perth CBD."
Brendan Leahy, CEO of We Love Rentals
As always, investment properties that are well presented, low maintenance, and well located (close to amenities) will reap the biggest rewards.
Thinking of renting your Perth home during COVID-19? Speak with Sarah Leahy here or call on 6254 6300.