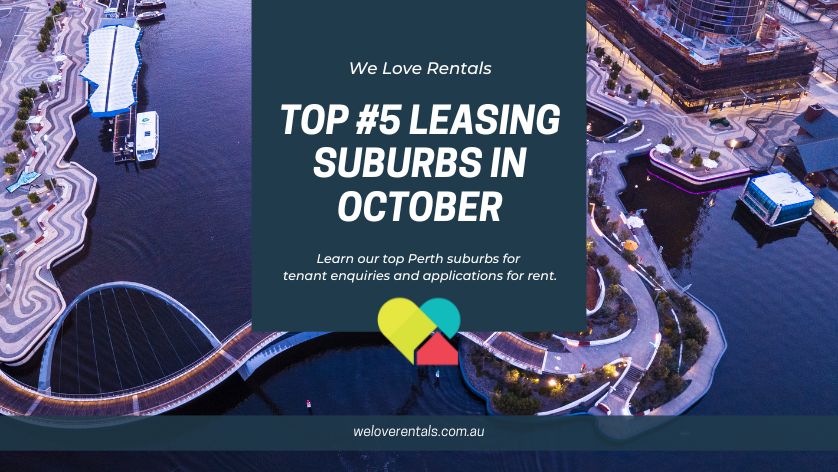 Our Top Leasing Suburbs in Perth for October 2022
Over the October period we continue to see high rental demand with low supply. We have noticed the increased demand in our office, with on average 100 tenants booked to inspect each of the four rentals we had available this month. 
Read on to learn our top leasing suburbs in Perth and our rental market update for October 2022….
Top #4 Perth rental suburbs for tenant enquiries
West Leederville
Queens Park
East Cannington
Camillo
Top #4 Perth rental suburbs for tenant applications
West Leederville
Queens Park
Camillo
East Cannington
In the last 30 days We Love Rentals recorded 633 rental enquiries and 48 tenant applications…
October Market Update
A recent report has said that properties are now averaging 19 days on the market before being leased. Rental stock currently on the market has hit the lowest level in almost two decades, and this is causing the price of rents to soar. The demand for rental properties has also risen with the increase of migration due to restrictions easing over the last few months. Over the September quarter it's reported that rental prices grew over 2.5% which brought the median rent to $533. This has meant the medium rent in Perth is actually more than Melbourne ($495), Sydney ($665) and Brisbane ($573). 
Another issue is less investors willing to enter the market or buy additional dwellings due to interest rate rises. This isn't to say properties aren't moving, in fact in Perth the property market is still steady, but a lot of purchasers are buyers looking to escape the rental market issues and live in the properties rather than rent them out. The good news for investors is that rental yields for September sat at 4.51%, which is the highest of all major mainland cities. 
Federal Budget 2022-23
Recently the new Federal Budget for the 2022-23 period was announced and one of the key focuses was affordable housing. Under a newly announced National Housing Accord a goal of one million new homes over five years commencing 2024 has been set. There has also been the implementation of previously announced plans, like the help to buy scheme, which will hopefully take pressure off the rental market as first home buyers are more likely to buy than rent. The other existing policies mentioned that will help increase affordable housing and supply is the Regional First Home Buyer Guarantee, The $10 Billion housing Australia Future Fund (Focusing on boosting social and community housing), An exemption of home sale proceeds in pension asset testing, and the Defence Home Ownership Assistance Scheme.
While the announced changes are not enough to fix the rental crisis straight away, the focus on affordable housing in the recent Federal Budget will hopefully ease the pressure.  
What Happens Next
With the upcoming months leading us into the Christmas holiday season we won't see any major relief for the rental market, with less homes coming on the market for sale and current tenants unlikely to vacate. The Federal Budget initiatives will bring slight relief over the coming years, and it will be interesting to see the National Housing Accords effectiveness. 
The good news is that while our wages remain high, and with strong rental yields Perth property is still great value for investors. The Government has also recently announced that approximately 160,000 blocks of land will be created across Perth to help combat the housing supply, which will be ideal property for First Home Buyers and investors. 
Want to discuss the rental market and how your investment property measures up?
Contact our friendly, family-run management team on 08 62546300 or via
our website.