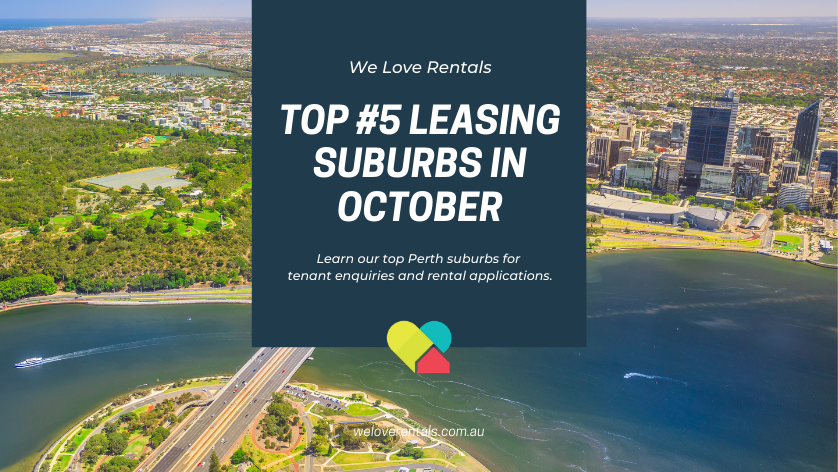 The Perth Rental Market Is Booming!
This month interstate tenants joined the competition for Perth rentals, with some offering up to 12 months rent upfront! With the WA border set to re-open this weekend, the Perth rental market is only going to get busier…
In the last 30 days, We Love Rentals recorded 468 tenant enquiries and 128 tenant applications.
Read on to learn our best performing suburbs for Perth rental activity in October…
Top suburbs for tenant enquiries –
Attadale
Top suburbs for tenant applications –
Maylands
October tenant activity reached a new peak for 2020…
This month we recorded the highest number of tenant enquiries for 2020, rivaled only by May when COVID-19 lockdown restrictions had just begun to ease in WA. Back then we recorded  461 tenant enquiries and 137 tenant inspections for the month, and it was by far the busiest time in 2020.
Until now.
This month we recorded 468 tenant enquiries and 128 tenant inspections, and looking forward competition for rentals is only going to get fiercer.
Rents on properties are rising fast to meet the tenant demand. For example, this month one of our rentals in Attadale leased at the first viewing for $70 more per week than its previous tenancy. The previous tenant signed on in 2019 for $430 per week and vacated in September, 2020. That's a 16.6% increase in rental yield over just 18 months. To put that in perspective, a typical rent increase over 12 months will usually yield $10 – $20 in a good market (or 4.6%), so a $70 increase is quite substantial!
Did you hear about the Perth vacancy rate?
The Perth vacancy rate also dropped below 1 per cent, currently sitting at 0.96 per cent… just 0.16% off the all-time-low of 0.8% back in March, 2007. This is only the third time in 40 years that the rate has fallen below 1 per cent, and with the WA border set to re-open to interstate travelers and migration this weekend we predict it will drop further to 0.5% in 2021 and make history.
And true to trend the amount of listing stock available for rent dropped in October, albeit not as dramatically as in previous months; from 2,959 on the 4th of October to 2,814 on the 8th of November. However, this figure is still shockingly lower than the number of properties available to rent during this same week last year… which was 6,118. Which means there are 54% less properties available to rent now than there were just 12 months ago.
And if you're thinking some housing relief may come from the new home building grants, the answer is – not in the short term. It's true that the grants have helped boost the WA housing supply in the long term, but those who are eligible for the building bonus scheme are needing to rent for the next 12-18 months while their new home gets built, so that pressure is still resting on the Perth rental market.
At this rate we will soon run out of properties, and Perth landlords will witness a real estate market we haven't seen since 2005.

How can landlords with existing tenants make the most of the low vacancy rate?
"The only thing existing landlords can do is increase the rental amount at the lease renewal. Even though they can't apply the increase until the end of the emergency period, the increase can still be written into any lease renewals that are coming up before then (and relevant documentation e.g. the Form 10), with the increase taking effect as of the 29th of March, 2020 (provided that the emergency period isn't extended)."

– Jodie Wilkinson, Property Manager at We Love Rentals
Be sure to check that your property manager is being proactive by organizing this in advance, so that your increase can take effect as soon as the emergency period finishes. This is important because if your tenants don't receive 30-60 days' written notice (it differs depending on the type and length of their lease agreement) prior to the rent increase, you could end up needing to wait an extra 2 months after the emergency period is lifted before receiving any increased rent yields.
Not happy with your current rental manager? Learn how our property managers offer specialized service here.
What will happen to the Perth rent market when the WA border re-opens?
The vacancy rate should continue to decline once the hard border is removed on Saturday the 14th of November, provided that every state and territory in Australia records a 14-day rolling average of less than 5 community cases of COVID-19 per day. Competition for housing (both rentals and properties for sale) is approaching peak levels, so landlords with new properties for rent can look forward to more rent rises, and potentially capital growth, too, with the Perth property values predicted to rise 10-15 per cent once interstate migration starts up again. REIWA President Damian Collins predicts we will run out of houses in the beginning of 2021, and this will in turn drive rents and sale prices up.

Some Perth landlords are gearing up to sell…don't be one of them!
This month a whopping 50 per cent of sales appraisals done by our sister company, Naked Edge Real Estate, were on rental properties. This is a huge spike in Perth landlords thinking of selling. To put that in context, usually sales appraisals on rental properties will only make up 5-10 per cent (if that) of their monthly appraisals.
Most of the appraisals did not result in listings for sale, however, for two main reasons:
The Perth sales market is only just beginning to climb in price. And as such the appraisal prices aren't enough for landlords to have recorded financial gains – yet.
The Perth rental market is so strong and competitive at the moment. Most landlords we spoke to are finding they will be better placed to wait until at least March, 2021. When the emergency period ends, they can see how much their weekly rent has increased. Plus how much capital growth they may record. And can then reassess whether to sell or not.
Is now a good time to sell your investment property?
The Perth rental market is booming! To sell now would be like forfeiting a grand final. You've done 95% of the work and the payoff is so close! It's been a rough and bumpy ride for Perth landlords over the last 10 years, but capital growth and increased rent yields are coming. Now is the time to ride the wave up into the next property cycle phase.
Thinking of renting out your Perth property? Give us a call on 6254 6333 and let us help you maximise your rent return – it's certainly the market for it!