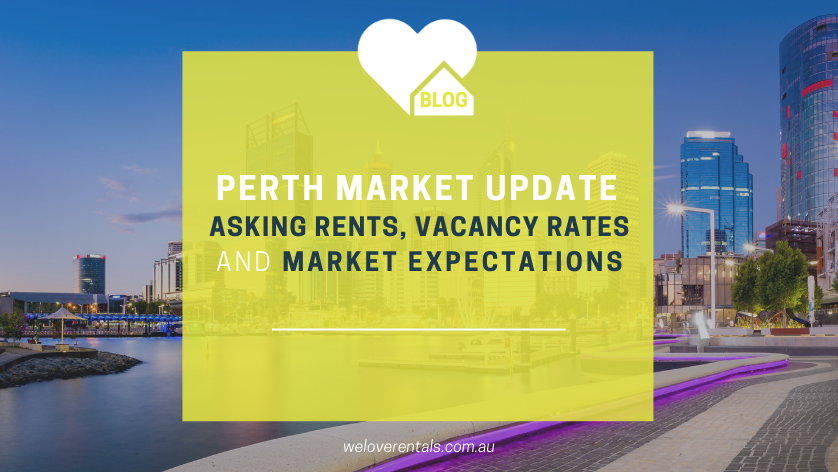 Perth Rent Market Update – Suburb Asking Rents, Vacancy Rates And Market Expectations!
Perth Rent Market Update July 2019
Positive news for landlords, rents are climbing! Our Perth-based property management team has noted more applications on our available rentals, and investors should soon be seeing better returns.
"Home open attendance has remained steady, but I have noticed more applications on our rentals. More landlords now have the choice between multiple applicants, so they can pick their preference."   – Jodie Wilkinson, Property Manager at We Love Rentals
Find out the latest Perth rental data from SQM Research, REIWA and the NAB Residential Property Survey below…
Key Takeaways:
Perth vacancy rate is currently 3.1%, down from 4.1% last year.
6% rise in asking rents over the past 12 months.
A modest $10 increase in asking rents across a number of Perth suburbs.
One third (36%) of First Home Buyers are electing to "rent-vest" as their first property investment strategy.
WA records the strongest rent expectations over the next 2 years.
Perth Vacancy Rate and Asking Rents…
According to the latest stats from SQM research, the Perth rent market continues to strengthen, recording a vacancy rate of 3.1% down from 4.1% last year, plus a 6 per cent rise in asking rents over the past 12 months.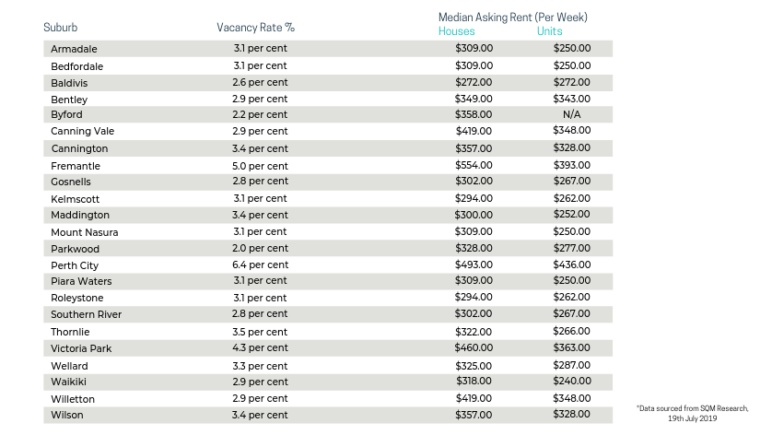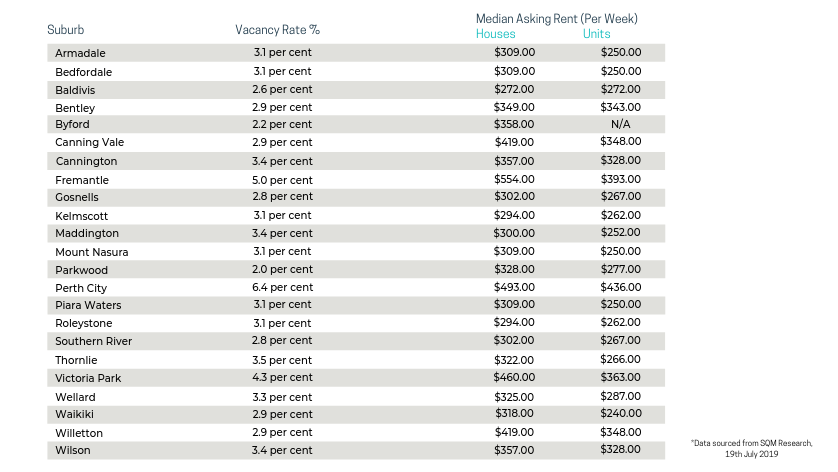 CEO and founder of SQM research, Louis Christopher says an overall vacancy rate of 3.0 per cent indicates a stable or 'balanced' market.
Available Listings and Leasing Activity…
REIWA snapshot statistics also show there were less rentals available in July compared to last month (June), and July last year. As well as an increase in leasing activity. So there is more competition amongst tenants to secure their preferred rental.
Median Rent Prices…
Most importantly, while the overall Perth median rent remained unchanged and stable at $350 per week, a number of Perth suburbs are recording a modest $10 increase in asking rents. Certainly good news for investors and landlords.
First Home Buyers, "Rent-Vesting" and Investor Activity…
Other indicators of a strengthening market include the latest Property Investment Professionals of Australia (PIPA) Survey, which showed a large share of First Home Buyers electing to "rent-vest" (36% of first-time investors). This is when an investor will rent in one location that suits their lifestyle (i.e. closer to the CBD to be near where they work), and invest in another (often less expensive) location.
Experts predict the next boost for the Perth market will be when investors trickle back in. They're expected to challenge the growing proportion of first home buyers for market share. Now that negative gearing and capital gains tax laws will remain unchanged, it will be interesting to see what happens over the next quarter.
Market Sentiment and Expectations…
WA recorded the strongest rent expectations for the next two years. This was the highest of all the Australian states, according to the NAB Residential Property Survey for Quarter 2, 2019.***
Long term capital growth and rental growth are the two biggest reasons for investing in property by those surveyed. And the largest group of investors (49%, up from 47% last year) continue to have a "hold and never sell" approach.
According to Brendan Leahy, it's a great time for investors to get a good bargain.
"For current landlords, if you can afford to buy another investment property, now is the time. And if you've been finding it tough, hang in there – the market is on the rise and you'll soon be seeing better returns." – Brendan Leahy, CEO of We Love Rentals
Thinking about renting your home or investment property? If you're after information about the current market, or a current rent opinion on your property, we'd love to help! Give us a call on (08) 6254 6300, or book your obligation free rent appraisal here!