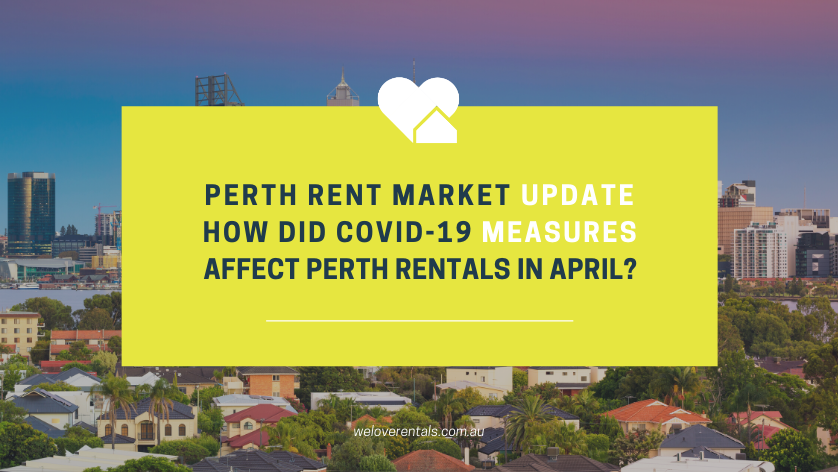 Perth Rent Market Update – Navigating COVID-19, Travel Restrictions And Home Open Bans
Wondering how the Perth rent market fared in April? Contrary to popular predictions there was no noticeable dip in tenant activity, even with the COVID-19 measures going on. Which should come as a welcome relief for Perth landlords.
In the last 30 days We Love Rentals recorded 299 tenant enquiries across all of our Perth rentals, and 115 tenant applications (wow)!
Read on to learn our best performing Perth suburbs for rental activity in April…
Top #5 Perth suburbs for tenant enquiries:
Success: 104
Kelmscott: 45
Queens Park: 38
Ferndale: 31
Seville Grove: 21
Top #5 Perth suburbs for tenant applications:
Success: 43
Ferndale: 19
Kelmscott: 14
Seville Grove: 8
Bentley: 7
How did COVID-19 affect the Perth rent market in April?
One of the biggest impacts COVID-19 had on the Perth rent market this month was the ban on rent increases. Due to the current state of emergency all rent increases have been put on hold until the 30th of September, 2020 (with this date subject to being extended). And this includes any rent increases that were pending from recently renewed leases.
While this is a welcome and necessary support for tenants who have been impacted by COVID-19, it will likely stall the record rent growth Perth experienced in the first quarter of 2020. To put this in perspective, in January and February, We Love Rentals had weekly rent increases of between $10-$15 in motion. With some rentals recording an increase of $25 per week. It was an encouraging sign that the Perth rent market was ready to soar.
How is Perth performing compared to the other capital cities?
The good news is Perth looks better equipped to absorb an increase of rent supply than the other capital cities. So, while rent rises have been stalled, Perth may not see rent decreases either.
"It's a fairly balanced market with that past growth, so if a 1 per cent vacancy rate goes to 3 per cent, that might not have much effect [on rent prices]."
Terry Ryder, National Property Analyst
Unlike Sydney and Melbourne, Perth has not yet seen a surge in new rental listings due to COVID-19. There are currently 5,696 rentals on the market, compared to 5,417 rentals four weeks ago. And 7,173 rentals the same week last year.
That's 20 per cent less rental stock than in April, 2019.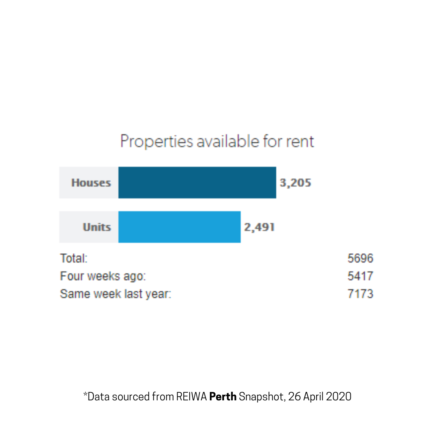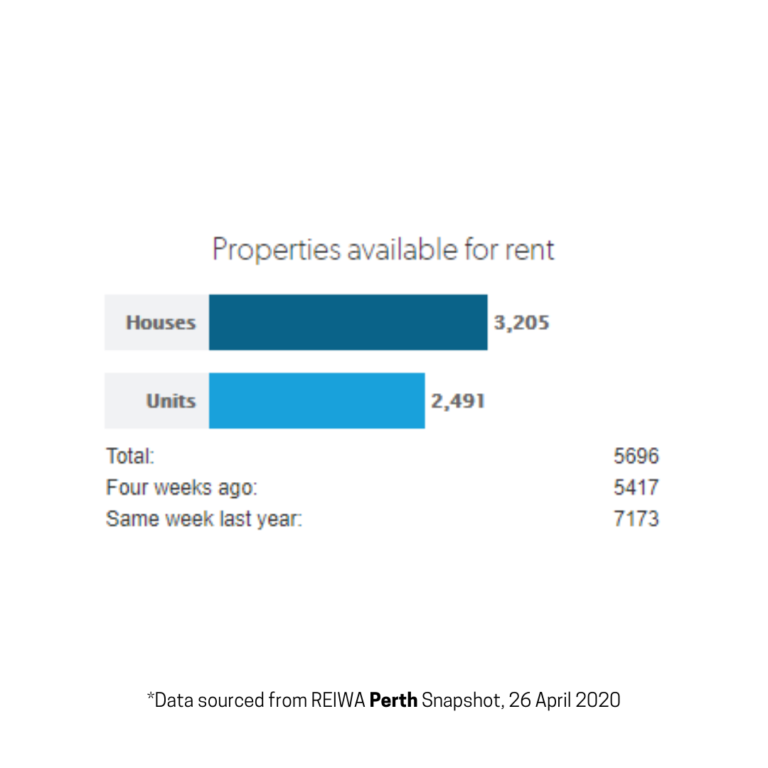 It's a different story over east. In the three weeks to April 5, 2020, Hobart saw a massive 60 per cent more listings come onto the market compared to the same period in 2019. With Melbourne recording a jump of 20 per cent, and Sydney a jump of 18 per cent (Domain, April 2020).
So, while 2020 may not have brought the rental growth we were all excited for, we can draw a lot of comfort from the Perth numbers holding steady.
What were the top reasons tenants decided to move in April?
The top reasons we noted from the 115 tenant applications received this month were:
∙ Moving to be closer to work
∙ First time renters
∙ Moving out of shared accommodation
∙ Lease is up and they're looking for cheaper rent or a change of area
So, nothing out of the ordinary, or necessarily related to COVID-19 distress.
We did experience an increase in fixed term lease renewals this month, as most existing tenants do not want the stress of moving and hiring a removalist during COVID-19.
We also noted a small number of applicants who were FIFO workers from interstate, and wanted a rental in WA for 3-6 months until the COVID-19 travel restrictions are lifted. The reason being, if they were to travel back to their home state between FIFO swings, they would need to undergo 14-day quarantine period, then fly straight back to work. Not an ideal way to spend your downtime!
As such we may see a small increase in demand for short-term leases on Perth rentals going forward.
Frequently asked COVID-19 questions from our Perth landlords…
Are Perth rentals still leasing for market value or will I need to drop my rent to find a tenant?
In April we had no issues leasing Perth rentals for their advertised price. So, we absolutely recommend advertising your rental at market value.
You might be feeling the pressure to find a tenant as soon as possible, for whatever price you can. You may be thinking, "a tenant at a cheaper rent is better than no tenant at all." Especially with all the daily media updates, and general uncertainty about the WA economy.
But there is still steady rental demand in Perth. And so far, we haven't noticed a dramatic change due to COVID-19. While dropping the rent below market value does increase enquiries, please don't let the panic get to you!
If you are feeling uncertain about your rental, please feel free to get in touch with Sarah for a chat here. She can give you an up to date, accurate perspective of the Perth rental market so you can lease your rental with confidence.
Are tenants still putting in applications for Perth rentals?
Yes, and more and more we have been able to offer landlords the option between multiple, good quality tenant applications:
"This month I offered my landlord the choice between FIVE great tenant applications for his rental in Success. And it leased after just 5 days on the market. This is a huge uptick in activity compared to last year, when we would have maybe one or two pending applications on a rental at a time."
Juliette Appadoo, Property Manager at We Love Rentals
"All of the applications I presented had great rent references, no previous rent arrears and current employment and income."
As a result, we often have a number of pre-approved tenants that are ready to move into a new rental. If you have a home in one of our Perth suburbs and are ready to rent it out, speak with Sarah Leahy here.
How many of our rentals have been affected by COVID-19?
Fortunately, just 2% of our rental portfolio has been impacted by the COVID-19 measures, and we are working with both our landlords and tenants to find the best solution for everyone involved.
What about the regional and state travel restrictions? Are they preventing Perth rentals from leasing?
While it is a little trickier for regional and interstate tenants to view rentals in person, our property managers have been working around this issue by recording video walkthroughs.
Just this month we had a potential tenant enquire from Esperance as she needed to move to Perth for a new job. She was unable to view the rental in person, nor could her friend who resided outside the WA border zones. So our property manager, Jodie took additional photos and a video of the rental and sent them to her.
The tenant then submitted an application for the rental in Bedfordale, offering $500 per week, and it was approved by the landlord.
Can tenants still view Perth rentals in person?
Absolutely, tenants can view Perth rentals in person via private inspection. And as of Monday the 27th of April, we are now permitted to conduct group viewings again, with a maximum of 10 people (including the property manager) through a rental at a time.
We expect this to boost rental activity as people feel more confident going forward.
Thinking of listing your home for rent during COVID-19? Speak with Sarah Leahy here or call on 6254 6300.