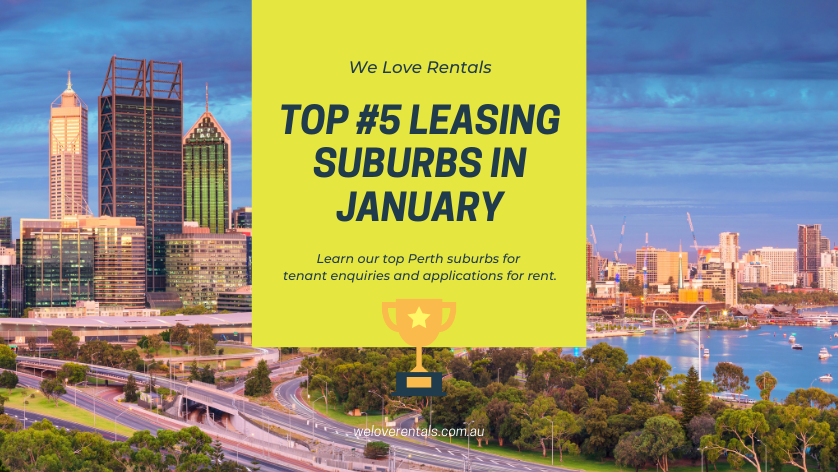 Perth Rent Market Update | January 2021
Just eight weeks into 2021 and Perth already has one COVID-19 lockdown under its belt – but fortunately it's going to take more than that to derail this real estate market!
WA rents are predicted to rise by 7.5% in 2021 and with such low rental supply available it's looking about as certain as Novak Djokovic reaching an Australian Open final.
Rentals leased very quickly in January with our average days on market sitting at 10 days across the board. And the average rent price sitting at $438 per week. Our property managers are seeing between 10-20 people per rental viewing, as well as 2-3 good tenant applications per rental (after just the one viewing). Not a bad start to the new year!
Thinking of switching property managers? We can help. Get your first two months rental management free.
Read on to learn our best performing suburbs for rental activity in January…
In the last 30 days We Love Rentals recorded 503 tenant enquiries and 41 tenant applications for rent…
Top #5 Perth suburbs for tenant enquiries –
Maylands

East Cannington
Top #5 Perth suburbs for tenant applications –
Maylands

East Cannington
And there are few big events on the horizon for Perth landlords in the next month…
The moratorium on evictions and rent rises is due to end on

March 28, 2021
The next vacancy rate update by REIWA is due in March (currently sitting at 0.8 per cent – the lowest Perth has ever seen)
The Residential Rent Relief Grant Scheme is open for applications
What's the rent forecast for 2021?
According to the recent Residential Property Survey by NAB, rents in WA are projected to grow by 7.5 per cent in 2021 – and we're leading the nation by a landslide! This is a huge jump considering just 2 years ago the Perth market was only projected to grow a modest 1.9 per cent in 2019 and 3.3 per cent in 2020.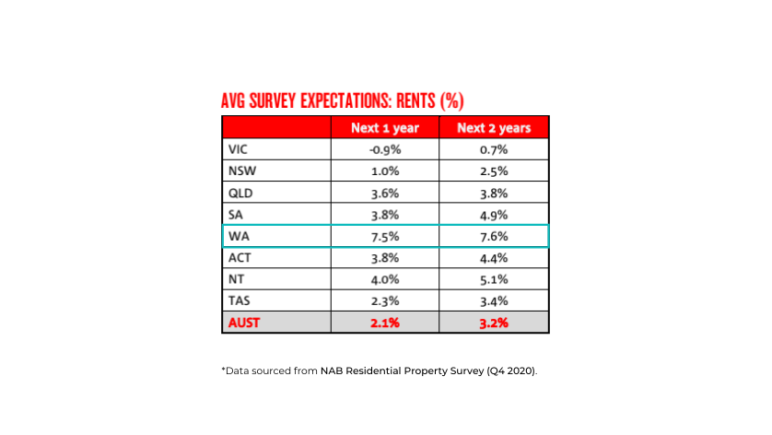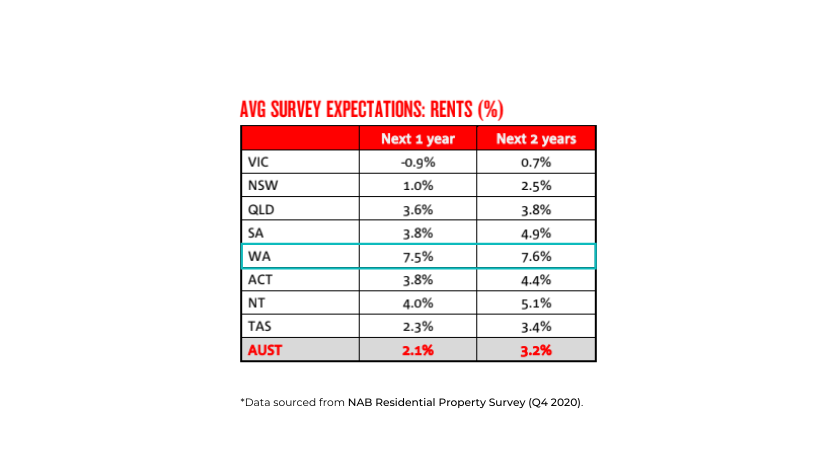 In retrospect, the Perth market grew 2.1 per cent from April 2018 to April 2019. But the real kicker was the growth in 2020. Instead of the projected 3.3 per cent, Perth rents rose a massive 8.2 per cent between November 2019 to November 2020.
Typically bank projections of rent and sale price growth are conservative. So there is definitely room for these figures to climb higher. Our CEO Brendan Leahy predicts that Perth rents will grow between 10 – 15% in 2021. Simply from the lack of rental supply and investors in the market:
"I think we'll see 10 – 15% growth this year because there's just too big a rental shortage. There are still hardly any investors around, and the extended moratorium on rent evictions and rises has not helped the situation. If anything it has made it worse for tenants – who are now in for a rude shock come March, 28. Most rents have risen between $50 – $125, so for many tenants it's going to be a big adjustment."

– Brendan Leahy, CEO of We Love Rentals
What is the Residential Rent Relief Grant Scheme?
The Residential Rent Relief Grant Scheme was introduced to help landlords and tenants clear some of the accrued rent debt that has resulted from the impacts of COVID-19 pandemic.
If you have reduced, waived or deferred your tenants rent during the COVID-19 emergency period, and you agree to sign a fixed term lease of 6-months or longer, ending no sooner than September 28, 2021 with the same, current tenant/s, you may be eligible to receive the Residential Rent Relief Grant.
Note – your tenant must satisfy the eligibility criteria as well.
Your tenant must be eligible and apply for the grant on your behalf, however, the grant funds will be paid directly to you (the landlord).
You will receive an amount equivalent to 75% of your rent arrears, capped at $4,000 per tenancy.
The key condition of receiving the grant is signing a fixed term lease with your current tenant that extends 6-months beyond March 28, 2021. This may be a good option for you, if your tenant has:
taken great care of your rental,

had a great rent payment history prior to the pandemic,

and has genuinely been affected by COVID-19.

In this instance, receiving the grant may help get the outstanding rent closer to zero.
However, there may be some instances where this grant will not be beneficial to you in the long term. Our advice is to speak with your property manager first, as they can outline the different options available to you. Then you can then make the best financial decision for your unique circumstances.
We're passionate about helping landlords make good, long-term decisions for their rentals. If you have a question, speak with one of our friendly team here.
What if WA goes into another COVID-19 lockdown?
With the first Perth lockdown for 2021 behind us, you might be wondering how COVID-19 could impact your rental this year.
Another Perth lockdown could affect:
New tenants moving in (and current tenants moving out) of your rental 

Routine inspections, urgent maintenance and non-urgent maintenance

Face-to-face viewings of your rental

The good news is it's not our first rodeo! Over the last 12 months navigating through COVID-19, our systems for managing your rental digitally have been trialed and tested, and our ability to negotiate and problem solve common lockdown issues have been fine tuned.
If you have current tenants vacating and new tenants moving in, your property manager will liaise with both parties and find a solution. For example, during the lockdown earlier this month, our property managers organised for some tenants that were due to move out (but couldn't), to stay put and pay an extra 5-days rent to their existing landlord. This way, nobody was left without a place to live, and landlords were not left out of pocket.
Your routine inspections can be completed via zoom, video call and photos provided by your tenant (with digital date and time stamps to ensure authenticity).
Urgent maintenance and repairs can go forward and will be organised by your property manager, while non-urgent maintenance will be postponed and prioritised once the lockdown is over.
Face-to-face viewings of your rental cannot take place during a lockdown. However, if you have a video walkthrough of your rental, tenants can view it online, submit their applications to us, and we can lease your property digitally.
As always, if you have any questions or concerns, speak with your property manager here. We're here to help!
Thinking of renting out your Perth property? Give us a call on 6254 6300 and let us help you maximise your rent return. 2021 is certainly the market for it!