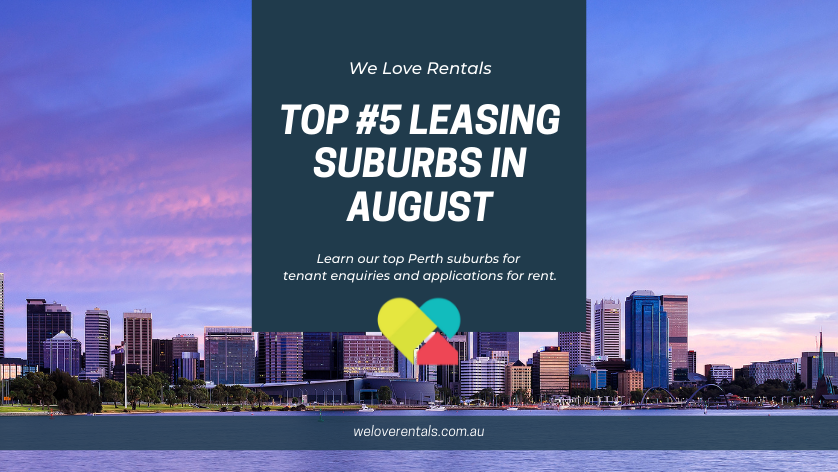 Is the Perth rental market slowing? No – it's growing!
Is the Perth rental market slowing down?
Not according to our property managers! Tenants still face fierce competition for properties (big or small), and rent prices continue to climb.
In the last 30 days We Love Rentals recorded 765 rental enquiries and 88 tenant applications. Read on to learn the top leasing suburbs in Perth for August 2021…
Top #5 Perth rental suburbs for tenant enquiries
Bayswater
East Cannington
Langford
Top #5 Perth rental suburbs for tenant applications
East Cannington
Bayswater
Langford
The golden opportunity for investors
The old saying "no news is good news" rings true this month, the Perth rent market continues to perform well, with rents rising, home prices growing, and tenant demand still strong (as it has been throughout most of 2021). For the sceptics who are waiting for the price growth to slow, stop or drop, in August the Perth rent market was one of the tightest in Australia, and has recorded 16.6 percent rises in house rents, and 14.6 percent rises in unit rents over the course of 2021 (Source: Corelogic).
This is only projected to get tighter when the WA border reopens due to the variable amount of work in Western Australia across multiple industries, including hospitality, farming, and mining.
With interest rates so low, there are some Perth suburbs where you can positively gear your investment and yield a higher rent than the mortgage repayments cost. So if you've been thinking about investing, don't play the waiting game – Perth house prices have already risen by 11 per cent this year, and you could find that a home is worth 10-20 per cent more in 24 months time.
To put that in perspective, the median home price in Perth at the moment is $515,000, meaning 10-20 per cent growth would equate to paying $51,500 – $103,000 more!
So for existing Perth landlords, you can keep enjoying the strong, stable conditions, and watch your investments grow.
Ready to rent out your Perth property? Book a free appraisal with our family run team here.
3 barriers for tenants applying for rentals (and 3 solutions)
It's a tough time to be house hunting at the moment. If you're having trouble finding a rental for your family, here are 3 successful solutions that helped some of our newest tenants this month…
[Barrier] You keep missing out on property updates

You've just found a new rental listed on one of the real estate portals, but there's no viewing time yet. You email a general enquiry through asking when the next viewing is… but a few days later the rental has leased!
Solution – Click the 'book an inspection' link on our website, and register with your mobile number. That way you will receive a txt message as soon as the next viewing time is organised (it won't matter if you forget to check your emails regularly, or the viewing notification gets buried in your inbox).
[Barrier] You can't attend the viewing

Most property management agencies schedule their viewing times within office hours, so it can be tricky for those who live far away, work a 9-5 job, or need to organise a babysitter for the kids, to attend.
Solution – Get someone else to view the property on your behalf – one of our new tenants did just this and was approved for a rental last week. She lived in Busselton and couldn't make the viewing, so her kids viewed it for her.
[Barrier] You're not super tech-savvy

You're a little bit old school and you don't have a mobile number, or an email address – so you can't register for viewings or email through an application form…
Solution – Print out an application form, fill out all details correctly, attach your 100 points of ID – and phone one of our property managers from your trusty landline. One of our property managers will happily advise when the next viewing time is, book you in for it, and you can submit your application at the viewing in person, or come and say hello to us in the office.
So, is the Perth rental market slowing down? Certainly not. Competition for amongst renters is cut-throat. If you're thinking about buying an investment property, now is the time.
We are passionate about helping good tenants find a great home. Call our friendly leasing team on (08) 6254 6300 today.