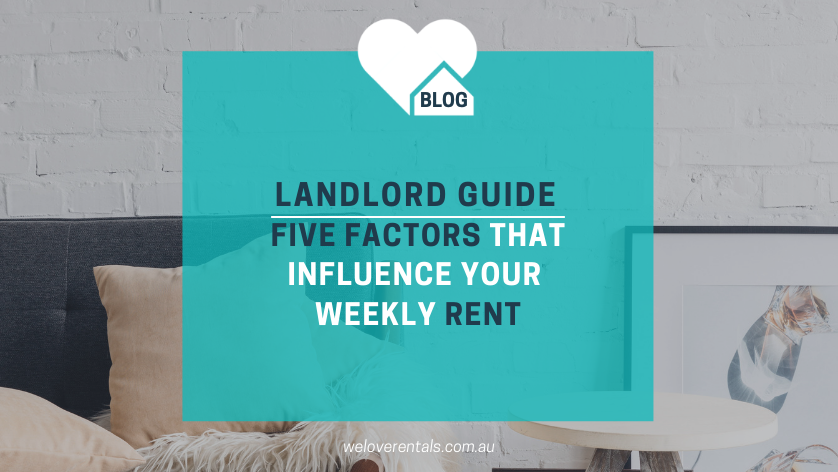 FIVE Factors That Influence Your Weekly Rent Figure…
FIVE important factors that influence your weekly rent figure…
Pricing your home correctly is crucial to finding a great tenant, quickly.
If you're wondering how much rent you could charge for your property per week, read on to get a tentative figure yourself. There are lots of variables to look at when pricing a property, so we've narrowed it down to our top five for you…
Other homes in your suburb. 

This is the most important factor in setting your weekly rent amount.

To get a good gauge of how your property compares, hop onto realestate.com.au to check what price similar homes (e.g. same beds, baths and car spaces) in your suburb are advertised for.

From this pool of properties, note down the cheapest and most expensive prices (e.g. $350-$400), and voila – you now have your rent range. Using the next few features to guide you, you'll then be able to tell which side of the rent range to place your property.

Think like a tenant and play 'spot the difference'… If your home is a new build or has better features (e.g. a new dishwasher, ducted a/c, renovated kitchen and/or bathrooms etc), you can expect a higher rent.

How big are your bedrooms?

Generally speaking, the bigger the bedrooms are – the more weekly rent you can charge. A good gauge of bedroom size is if you can comfortably fit a double or queen sized bed (and easily open a built in robe, or fit a freestanding robe).

Also worth noting, your property will yield a higher rent if your bedrooms are are all equally large, as opposed to those with a huge master bedroom, and tiny minor bedrooms.

Property presentation and location.

Street appeal is important because it impacts the number of people who will come to view your home. If the front of your property looks old or unkempt, potential tenants may not want to come inside…

Consider the state of your lawns, gardens, mailbox, front door and walls (paint chips) and/or window screens.

Next, look at the crime rate for the suburb and if your home offers any safety features (e.g. alarm system). The amount of street traffic and noise is important too, as most tenants will expect to pay a little less for a home that backs onto a busy road.

Are pets allowed?

57% of west Australians own pets* and are limited in their choice of home or rental. Allowing pets at your property can give your home appeal to a smaller, more competitive pool of renters. As such – you can charge a higher rent.

There are (of course) many pros and cons to allowing pets in your rental, so it's a good idea to speak with your property manager and your landlord insurer beforehand, to help you decide.

How many off-road and/or undercover car spaces are there?

For people who are renting, their car is often their most valuable possession, and a property with secure parking will rent quicker (and for more) than a property without it.

For the highest weekly rent, a garage or carport next to the property is ideal, so tenants won't need to walk far to get from their car to their front door (this is especially appealing for units, apartments and villas). Super convenient, and safe.
Want to know how much your home could rent for in the current Perth market? Book an obligation-free rent appraisal with Sarah here.