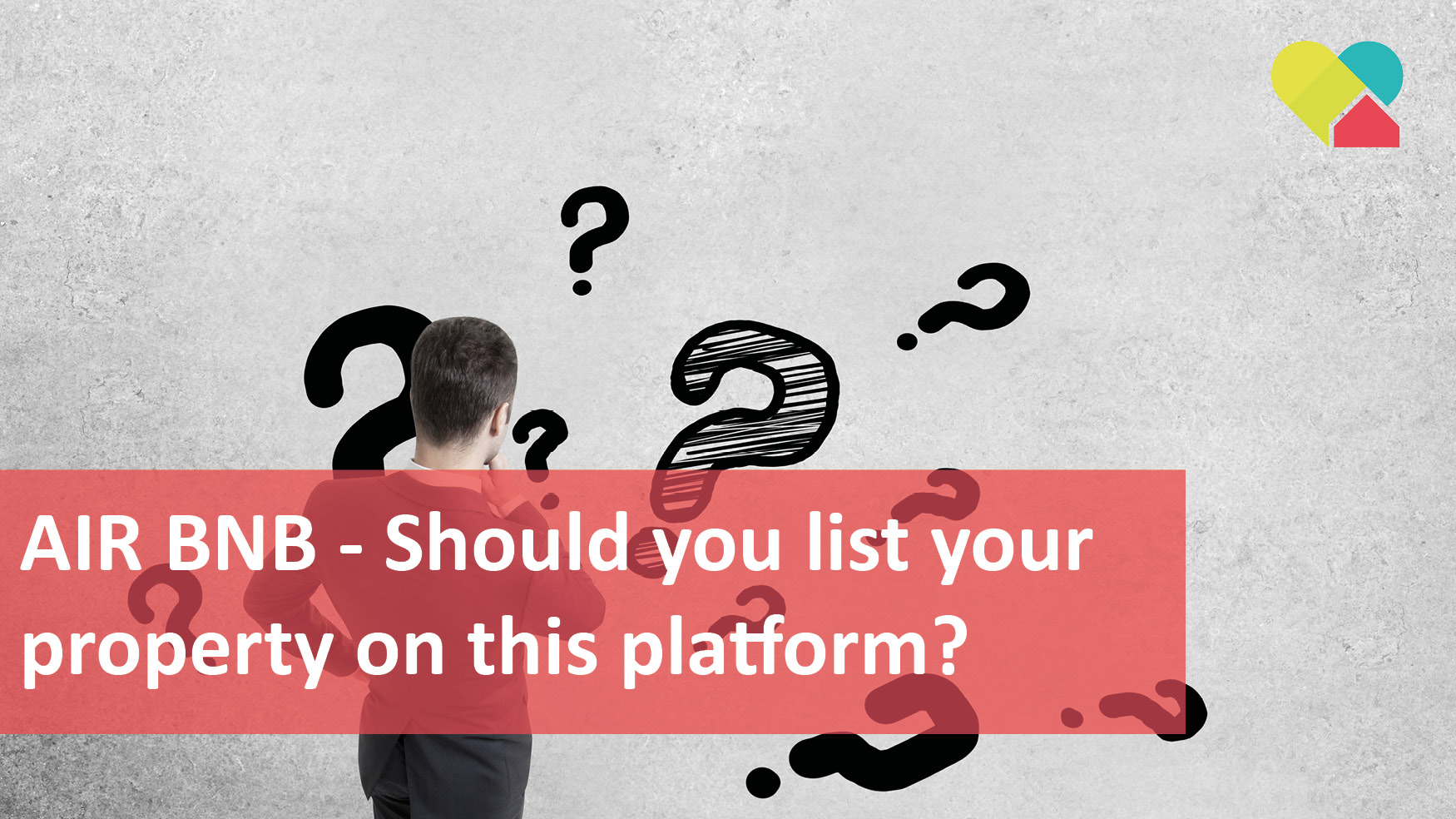 AirBnB – Should You List Your Property on This Platform?
With the seemingly continual rise of Airbnb, you may be tempted to list your investment property on the site, hoping to make more money. Or maybe you have recently stayed in an Airbnb yourself, and were impressed and inspired by the opportunity it presented.
However, before you consider if this is a good move, you must understand your rights and responsibilities as a landlord because successful property investment is about the long-term result, not just the possibility of short-term rental returns.
What are the potential issues?
One of the main issues with Airbnb to date has been cases of tenants listing the landlord's property, either completely or partially, on the website.
There have been numerous cases of landlords who's property is leased through traditional methods, finding their property on Airbnb without any prior knowledge or approval to do so.
State Governments are considering how to balance the rights of landlords and tenants when it comes to the issue so in the meantime it is vital that property owners have a thorough understanding of the contents of their leases.
This includes whether subletting is approved as a standard tenancy without the prior consent of the landlord.
Generally, however, if a tenant has a general tenancy agreement, they must ensure they have the landlord's written consent before listing the premises on short-term rental sites such as Airbnb.
Some real estate agents are even updating their rental agreements to specifically state that tenants are not allowed to list their leased property on Airbnb without the express written consent of the landlord.
However, until legislation catches up, the best strategy for landlords is to ensure that their professional property managers are conducting regular inspections and reporting any unusual movements, such as unusual luggage, bedrooms looking set up for guests, or revolving "visitors" at the property.
Should I consider renting my property on Airbnb?
Many property investors are considering renting their properties on Airbnb because of the higher rent that can be charged per night.
The data shows an 18 per cent increase in listings for entire homes on Airbnb from the end of 2016 to early 2017, the general sentiment within the industry is there is never a shortage of aspirational buyers, who are still won over by the high rents and apparently easy income.
But speaking to many who've tried it, the income is not as easy as it initially seems.
Like any short-term rental accommodation, the occupancy rate will determine whether the rent is superior to having a long-term tenant in the property.
In most cases, it is unlikely to be, which means you could possibly have problems with cash flow as if you have a month when there is not much demand from Airbnb guests as you will still have to pay the mortgage and maintain the home.
There are also a number of costs involved in listing your property on Airbnb including the cost of your time.
Unlike a traditional residential tenancy that is managed by a professional property manager, most Airbnb hosts have to invest their own time to market the property as well as to prepare it for guests and clean up after they've left, too.
In fact, according to research, most hosts spend about eight hours a week doing this, so you must consider 'do I actually have those hours spare?'.
The Airbnb gold rush appears to be ending, with fed-up landlords returning to the long term rental market after the short term becomes more trouble than it's worth.
Difficult and hands-on management, less-than-ideal profits, and a saturated market are turning investors from the one-time disrupter, which is now no longer seen as quite so easy money.
The key to an Airbnb property is uniqueness. This way you are ensuring less competition on the site which can steer potential vacationers away from your property. For example, a beautiful holiday home in a wine region would be more attractive to guests than a 3 bedroom flat surrounded by other 3 bedroom flats in a suburban area – they would have so many choices that price is what it would come down to. Keep in mind however that a downturn in guests is likely to be seen in the Winter months as people are less likely to plan vacations away during this time.
At the same time you must also understand the relevant laws, including owners' corporation or body corporate, because there may be limitations on such things as whether you can leave keys out for guests and how many cars can be parked at the property. So be sure to check your strata rules and by-laws before getting caught in a potentially financially draining situation.
Of course, you will also have to pay your share to the Australian Tax Office, and the property will also be liable for Capital Gains Tax when you sell it, too.
According to Airbnb, Australian hosts earn about $5,600 per year which is probably reflective of people renting out a part of their house or a room from time to time rather than the entire house all year around. The latest data from REIWA shows that with the overall median rental costs in the Perth metro rental market achieving $350/week, a 12 month tenanted property would bring in over $18,000 for a landlord (before management fees and any other associated costs).
When it comes down to it, the decision to rent your property on Airbnb is one for you alone. However, having a good property management team to secure you a tenant who will stay for the long-term is likely to be a better financial outcome when all factors have been thoroughly considered.