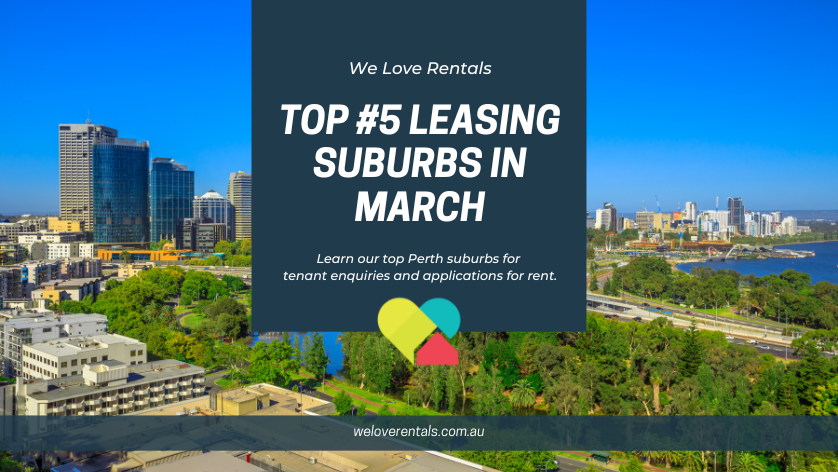 Our Top Leasing and Most Affordable Suburbs in Perth for March 2022
Perth rental prices for homes are predicted to smash new records in the coming quarter, with rents already 11.6% higher then they were last year! So are there any ways to save in this market?
Keep reading to learn our top leasing suburbs in Perth for March 2022, the findings from the latest Domain Rental Report, and see the Most Affordable Perth Suburbs for Rentals. 
Top #5 Perth rental suburbs for tenant enquiries
Bentley
Forrestdale
Thornlie
Canning Vale
Gosnells
Top #5 Perth rental suburbs for tenant applications
Bentley
Canning Vale
Thornlie
Forrestdale
Gosnells
In the last 30 days We Love Rentals recorded 420 rental enquiries and 91 tenant applications…
Perth Rental Market continue to smash records in March
All data taken from the March Domain Rental Report
Over the March quarter asking rents have jumped an average of $20 a week, which is twice what was reported in the previous months.
We are still seeing Perth as a landlord's market, and it continues to be one of the most competitive capital cities due to low rental supply and an increasing number of Australians relocating or choosing Perth for their next investment property location. Rent for homes in Perth have soared 11.6 per cent in the past quarter and now sit at an average cost of $480 a week. 
The WA's hard border restriction being lifted earlier this month has also meant we are seeing an increase of interstate individuals relocating to Perth and increasing the competitiveness of rental applications. At WeLoveRentals we noticed an increase in rental enquiries from 317 in February to 420 in March. We have also seen properties being tenanted quicker, with the average days listed going down from 22 days in February to 19 days in March. Units are also renting at higher rates this quarter, and have raised Perth 8.1 per cent to $400. The Domain Rental Report also shows that rental yields are continuing to improve which suggests rents are rising faster than purchasing prices.
Most Affordable Perth Suburbs for Rent 
The good news is Perth still has affordable rental properties out there! With a few of WeLoveRentals main service areas being on that list (Statistics taken from CoreLogics recent Quarterly Rental Review Report)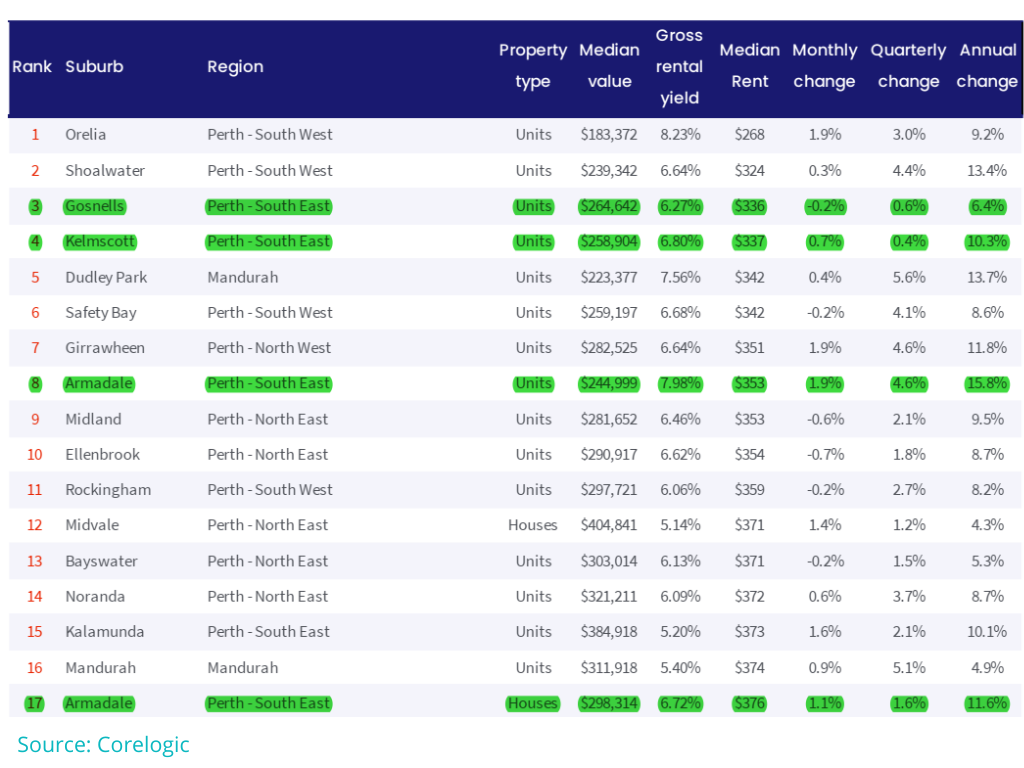 Gosnells- 3rd on the CoreLogic Top 30 most affordable list (Units)
Median rent: $336 (Unit)
Gosnells is a southeastern suburb located 20km from Perth and has a population over 20k. There are over 30 parks, reserves and wetlands in Gosnells so it's perfect for renters who love being outside and active. Gosnells also has a public transport network to keep you connected to all the local amenities. It is a great suburb to rent in if you have children, as there are a lot of local schools for the kids to attend. Another great feature of Gosnells is the railway markets which first opened in September 1990 and features a unique retail space, food hall, butcher, fishmonger and bakery. There are a lot of great locations in and around Gosnells that make it a wonderful place to rent.
Kelmscott- 4th on the CoreLogic Top 30 most affordable list (Units)
Median rent: $337 (unit)
Kelmscott is also a great place to rent whether you're living on your own, in a couple, or a family with kids, there is plenty to keep you busy. There is a reliable public transport network to make sure you're able to get to all of the local amenities. It's also just under 30 minutes to the airport, and just over that to get to the city so even though you're surrounded by the hills and great parks, you're still close to the hustle and bustle of the city. Kelmscott also has a lot of shopping centres conveniently located, and a major hospital nearby so everything you need is here! 
Armadale- 8th on the CoreLogic Top 30 most affordable list (Units)
                    -17th on the CoreLogic Top 30 most affordable list (Houses)
Median rent: $353 (units)
                        $376 (Houses)
Armadale might get some bad press, but it's actually a great area to live and one of CoreLogics Top 30 most affordable suburbs for both houses and units. Located 25kms from the Perth city centre, Armadale branches out and forms part of the south west corridor. It also boasts one of the five major railway lines, so transport in and out is no issue. Armadale also has a range of educational institutions, so whether you're a student looking for a decent area to live while studying in the area or a young family needing somewhere close to reputable schools without breaking the bank there are plenty of options. Armadale also holds a variety of free family events at Minnawarra Park, so you'll never be bored renting in Armadale. 
Are you looking for an affordable rental in Perth, with Property Managers that offer a personalized service? Why not take a look at our available properties