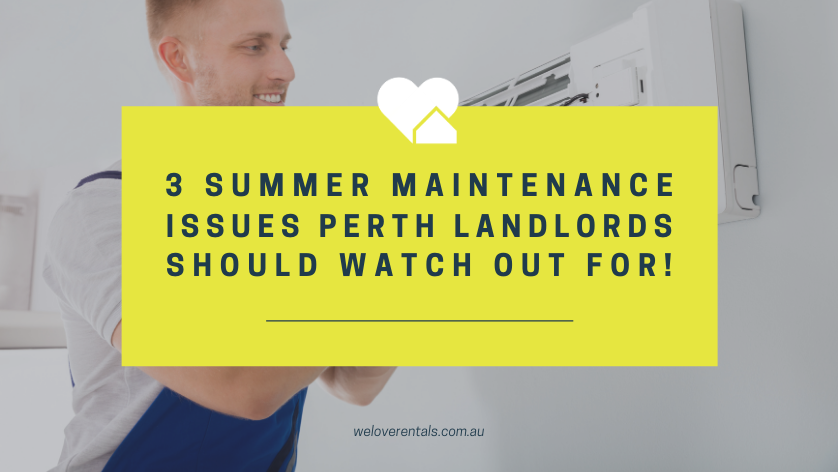 3 Summer Rental Property Maintenance Issues Perth Landlords Should Watch Out For!
Rental Property Maintenance in Summer
Perth residents know only too well what summer brings… 
Whether it's the discomfort of scorching days, air-conditioning breaking down, or the danger of bushfires, don't stress, as a landlord, there are still ways you can get ahead before the heat sets in!
At We Love Rentals, our property managers are experts at planning summer maintenance.
This is the right time to carry out:
indoor maintenance

such as servicing

air conditioning

and

smoke alarms
outdoor maintenance

like cleaning

gutters

and

servicing pool pumps

a

fire risk assessment. 
Although tenants are responsible for keeping the property in reasonable condition, all major maintenance is your responsibility (unless the tenant directly causes damage.) 
Indoor Rental Property Maintenance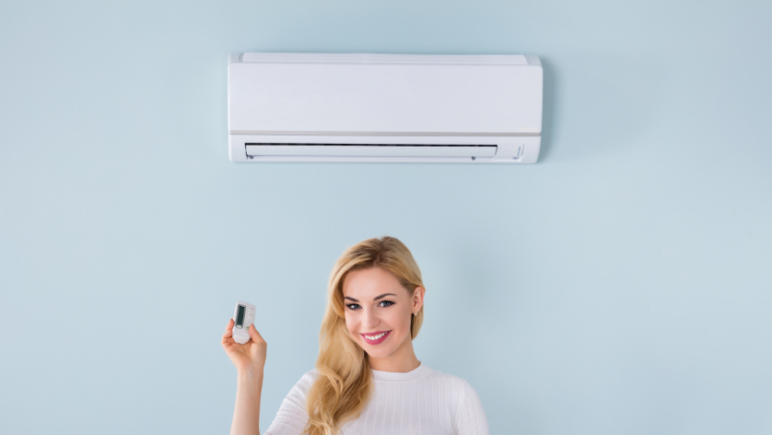 Landlords must keep items they provide (like whitegoods) in working order. This is especially crucial in summer! There's nothing worse than air conditioning failing on a 40-degree day.
Indoor maintenance tasks include:
Servicing air-conditioning
Servicing air-conditioning annually helps prevent health problems, reduces the risk of breakdowns/mould build-up, and keeps air safe for tenants. 
It's important to insure your air conditioning too!
Legislation requires you to:
install at least two

mains-powered smoke alarms
maintain them

in working order

and
replace alarms

every 10 years.

 
Our electricians perform annual smoke alarm maintenance for a fee. They then provide discounted call-out fees for electrical work during the year!
Check and repair appliances 
Remember, regular maintenance minimises expensive repairs later!
Outdoor Rental Property Maintenance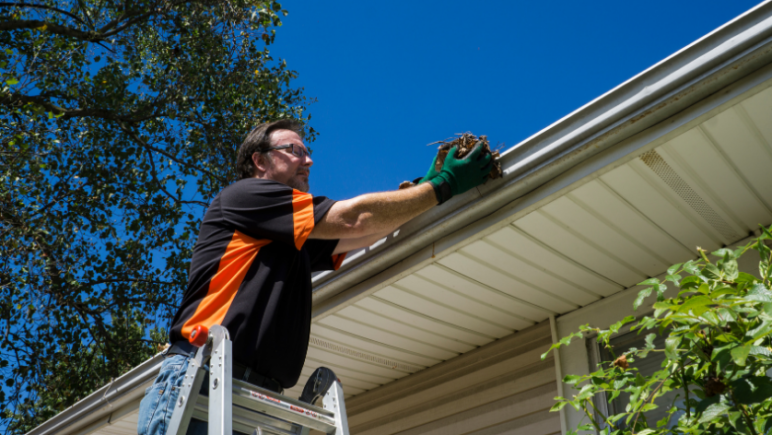 In summer, neglecting outdoor maintenance can create risks.
We recommend you:
clean gutters and leaf litter
This improves fire safety and keeps your property looking spiffy!
service pools and surrounds
We recommend: 
servicing

(and insuring) your pool pump

having

pool water tested 
ensuring

pool gates lock securely

and that there are

no objects pushed against pool fences that could allow children to climb over
service bores, tanks and reticulation
Service (and insure) bore pumps. Check the reticulation is in working order – this makes it easy for tenants to keep gardens alive. 
Check rainwater tank inlets for debris. Clean tanks every two years. 
Managing fire risk 
After the devastating bushfires in 2020, landlords must be cautious, especially in regional areas.
House fires are also a risk.
If your property is in a bushfire risk area, the Department of Fire & Emergency Services (DFES) advises regular fire-safety maintenance. 
Before summer, they suggest you: 
cut grass

to

below 10cm
prune

shrubs 

remove all

flammable material
clear tree branches

within 20 metres

block gaps

and

install metal mesh

on windows/vents/chimneys etc.

install

protective screens

on air-conditioners

install a

fire shield

like a solid fence.
Even if your property is not in a bushfire risk zone, some of this advice may still be applicable, especially if your property is close to a risk zone.  
DFES recommends residents in risk zones create a bushfire plan — encourage tenants to do this. 
Plans may include:
when to leave 
routes to take

 

people to contact

 
backup plans

including

where to shelter

.
DFES suggests creating a bushfire emergency kit — encourage tenants to do this. 
Kits may include:
drinking water/food

 

first aid kit, medications

etc.

important

documents 
portable AM/FM radio

waterproof

torch

and

woollen blankets
protective clothing.
NOTE: The above is general advice only. For comprehensive information on bushfire preparation, planning and bushfire kits,  visit DFES and government websites.
House fires happen year-round, but some property fire risks are more prevalent in summer.
For example:
rechargeable batteries overheating and igniting 

faulty electrical appliances (e.g. old "beer fridges")

cooking mishaps from barbeques/outdoor kitchens.
Strategies to prevent house fires include providing:
at least

two compliant RCDs

 

responding urgently

to reports of:

flickering/buzzing lights

RCDs tripping

blackened power outlets

electric shocks

a

fire blanket and fire extinguisher

in outdoor cooking areas.
Instruct tenants to:
report faults

immediately
check smoke alarm batteries

 

be aware of

risks relating to lithium-ion batteries:

use only authentic chargers/batteries

don't recharge damaged batteries

keep devices cool.
So, what next? 
If you're intimidated by your list of summer jobs, your property manager can help. Whether it's booking tradespeople or liaising with tenants, they'll reduce your stress. 
At We Love Rentals, our specialist property managers can manage it all so you don't have to! 
If you think we can help, please get in touch on (08) 6254 6300 or click here for a free property appraisal!