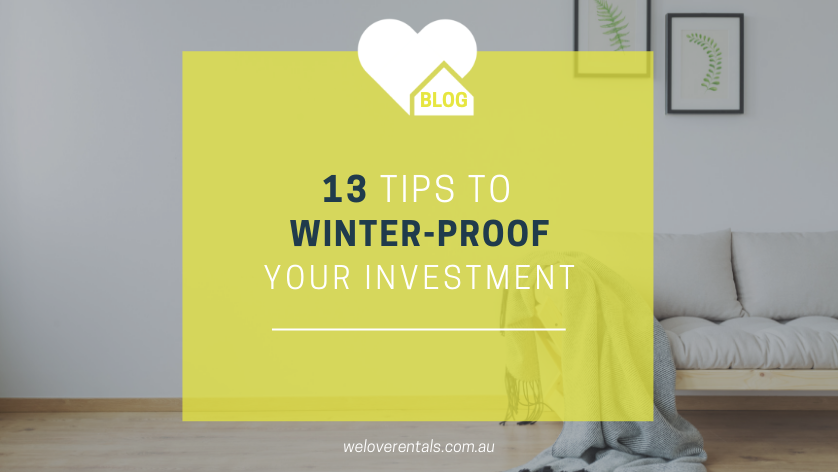 13 Tips To Prepare Your Rental For Winter
Prepare Your Rental for Winter
Perth winter has almost set in!
Here's a list of 13 tips to help you prepare your home or investment property for the colder months…
13 Tips to Winter-Proof Your Rental
Roofing: Check the roof and around vents, skylights and chimneys for leaks. A watertight roof will do wonders for keeping the heat in, and prevent rotting timbers and/or dampness (nobody wants their roof collapsing during a windy storm)!
Attic: If there is no ridge vent, keep gable vents open year-round to ensure proper ventilation.
Gutters: Clean your gutters and drain pipes so leaves won't clog them and be sure they drain away from the house. You may want to consider getting gutter guards to stop leaves, dirt and other matter from building up as neglected blockages can cause costly water damage.
Exterior Plumbing: Drain your outside faucets to prevent them from bursting in freezing temperatures.
Fireplace: Clean the fireplace of ashes, check the chimney for loose or missing mortar, and make sure the damper closes tightly. If it's too dusty, you may want to consider having your chimney professionally cleaned.
Bathroom ceilings and walk-in wardrobes: Check for signs of mould and mildew… according to home ventilation expert, Robert Arroyo, once mould gets into your property's gyprock you may need to replace an entire ceiling. Mould can also have a number of nasty health effects, so it's best to keep on top of it!
Filters: Remember to clean or replace HVAC filters once a month, or as needed. You should also check and clean the dryer vent, air conditioner, range hood and room fans. Then, keep the heating and cooling vents clean and make sure no furniture or curtains sit in the way.
Safety Equipment: Ensure that all smoke detectors are in good working order. You may need to replace the batteries in appropriate devices as needed, or at least twice each year.
Taps: Check for leaky faucets in kitchen and bathroom(s). Then, replace washers as necessary.
Windows and Doors: Seal drafty doors and windows. It might come as a surprise but if you add up all of the small cracks where heating and cooling escapes from a home, it would be the same as having a window open (not great for leaks or the power bill). Replace seals as needed.
Siding and Painting: Look for cracks, holes, and peeling paint in the house siding. If you can, repainting the property before winter will help keep dampness out and stop water damage to timber.
Heating System: Have the heating system serviced before winter to eliminate a costly breakdown.
Landscaping: Prune trees and remove dead branches to prevent potential damages or hazards in gusty weather.
Following this simple checklist will help you maintain the value of your home or investment property, keep costs low, and prevent easily avoidable maintenance over the winter months.
Want someone else to manage your rental this winter? Call Sarah on (08) 6254 6300, and you could get your first two months of property management, FREE!
Please note* this article is for general informational purposes only and must not be taken as legal, financial or any other professional advice.   We recommend obtaining advice specific to your situation before making decisions relating to your investment property and financial position.